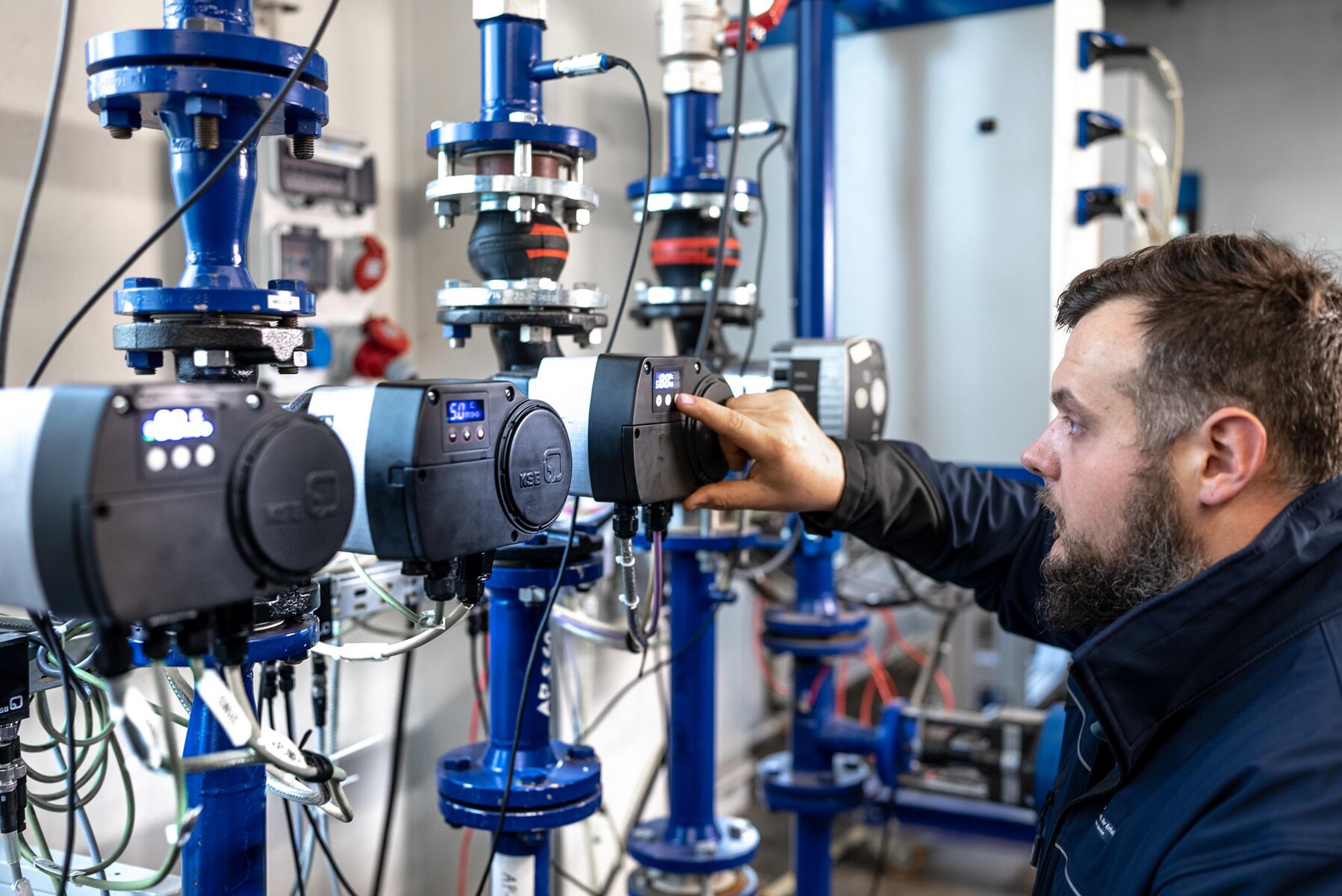 Development, testing and optimisation
Get to know our Testing Engineering department, where we put new products through their paces and help refine existing type series on over 60 test stands.
A technological solution's quality can only be demonstrated by pushing it to its limits. But our test centre is also the nucleus for innovations and further development of our pumps and valves.
Numerous testing options for technically advanced solutions
The name KSB has been synonymous with innovation for 150 years. Testing is essential to make sure that new developments meet the demands placed upon them. KSB has therefore developed a rigorous test scenario that all KSB products must undergo before they reach market maturity.
Our development test facilities, which cover an area of more than 2600 square metres and comprise more than 60 test stands, are situated at our development centre in Frankenthal. At the centre, our experts test new hydraulic systems, designs and functions of our valves and pumps.
Besides measurements of hydraulic characteristic curves, KSB's range of tests also includes advanced and complex methods such as 4-quadrant measurement, radial and axial force measurements, pressure pulsation measurement and thermodynamic efficiency measurements.
Test centre and new development under one roof
On our development test stands, which can be operated at up to 1.5 megawatts, we test the entire KSB product portfolio, including the very largest special designs, possibly using models or test demonstrators.
The test stands in Frankenthal also include special test stands for waste water products or acoustic measurements, for example, as well as hot water test stands and a hot oil test stand. 
In addition to testing current, almost market-ready products, we also draw on the expertise of our department for the development of new products and innovations. 
At our development workshop, besides manufacturing test specimens and prototypes, our engineers and technicians also develop and design complete test stands, which are also manufactured and put into operation in the development workshop.
Model testing for smooth operation
A particular strength of our development centre lies in the design and implementation of individual system configurations for our customers. For example, our experts use physical model tests to simulate how the finished solution will behave in normal operation and provide important information for system optimisation. 
This is how we ensure smooth operation of the pumps and valves we supply right from the planning phase. 
Other companies are now also benefiting from KSB's comprehensive infrastructure and the decades of expertise of our test and development centre, and have their own products inspected and tested by our Testing Engineering department.
Consistently high KSB quality worldwide
From China to Russia to Mexico, our customers can rely on the consistent quality of KSB products for their new installations and modifications. To ensure this, test stands like those in Frankenthal are located at all major production locations worldwide.
Customers the world over can therefore be confident of globally harmonised testing quality and compliance with our standards. We employ in-house developed data recording software to control our worldwide test facilities network and maintain consistently high quality across all locations. 
In addition, we are constantly developing our test stands KSB-wide and audit these regularly. This ensures that our customers continue to receive the best possible pumps and valves in the future.