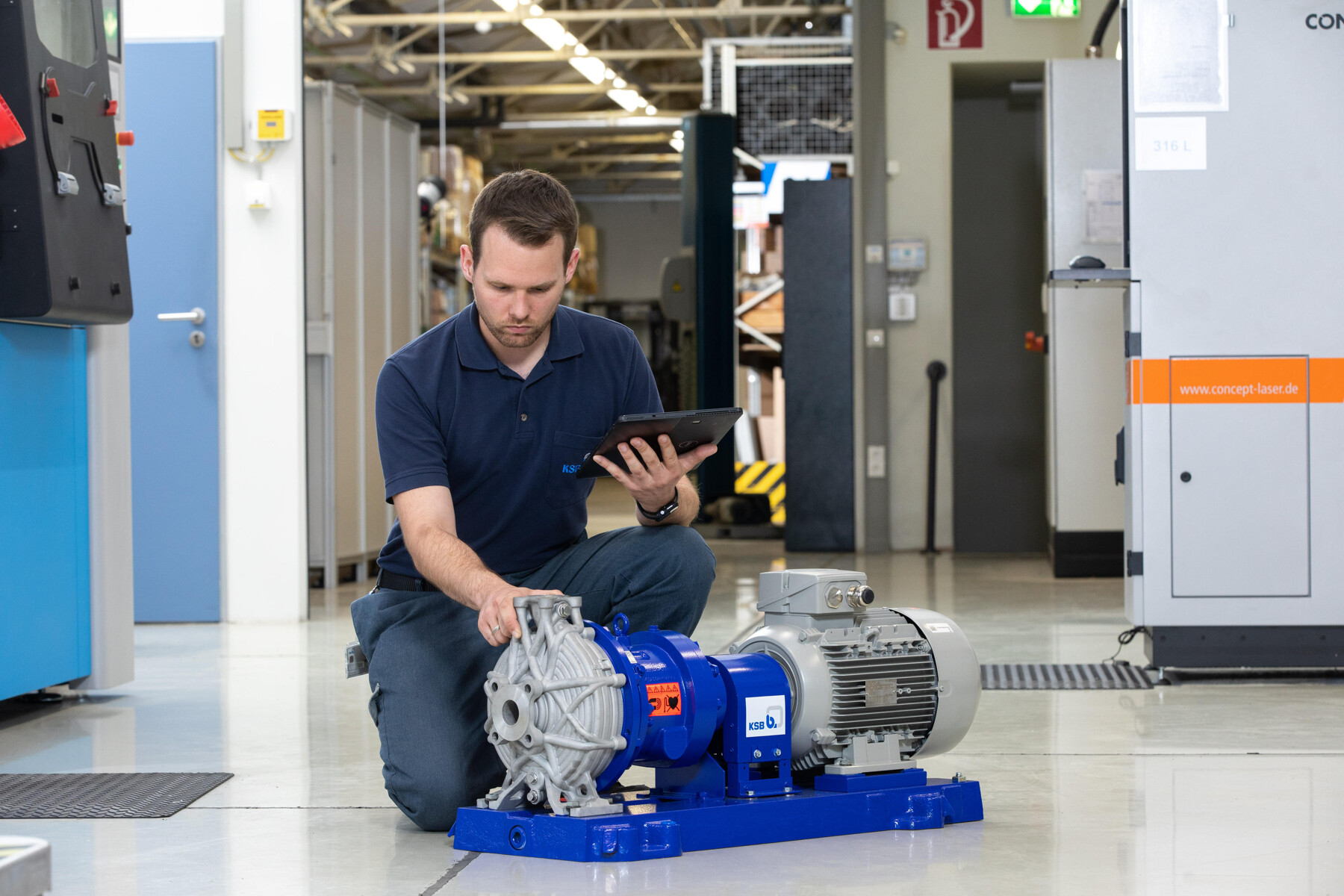 Additive manufacturing at KSB
KSB is an international pioneer in the ground-breaking technology of additive manufacturing.
Thanks to forward-thinking innovation management, we adopted the innovative manufacturing technology of 3D printing at an early stage. This allows KSB to manufacture both small quantities and complex one-off products quickly and efficiently.
Additive manufacturing: a game-changing technology
Additive manufacturing, commonly termed 3D printing, turns the principles of many traditional manufacturing processes on their heads: Instead of removing material from a solid block to produce components, the innovative process builds up components ("adds") layer by layer, often from materials in powder form.
Various metals, plastics and composites can be used as materials. Additive manufacturing thus allows the production of complex geometric shapes that would be impossible to create using conventional processes. Single pieces and small batches can also be manufactured efficiently.
KSB is an international pioneer in this game-changing technology thanks to forward-thinking innovation management, early involvement in research and the acquisition of valuable practical experience. Today, we turn to additive manufacturing when conventional components need replacing, for specially customised designs, and for new components specifically developed and designed for the process.
Additive manufacturing is therefore a useful addition to our traditional manufacturing processes and creates significant added value for us as a company and for our customers.
KSB receives first TÜV certification for additive manufacturing
We were the world's first manufacturer to receive TÜV certification for additive manufacturing of components in accordance with the Pressure Equipment Directive. Thanks to many years of expertise and experience, we are able to offer services relating to the entire additive manufacturing process from a single source at our Pegnitz location. The spectrum ranges from advice on equipment, design or re-design and process-oriented optimisation and engineering of components to actual production and testing of quality and materials.
KSB is a pioneer in additive manufacturing
Becoming a global leader for additive manufacturing was a step-by-step process lasting almost two decades: As early as 2003 our innovation management experts carried out a technology assessment of the process for the first time – five years before additive manufacturing was mentioned in the Gartner Hype Cycle technology radar. This head start enabled us to move more quickly into preliminary projects and subsequent prototype development. We used this head start to systematically develop our additive manufacturing competence to the present day.


Additive manufacturing offers KSB customers many advantages
Some components can only be manufactured using additive manufacturing, and they offer a clear demonstration of the enormous potential of this futuristic technology.
Our experts are now able to integrate heating channels into the casing of a pump – all in a single operation. This component is used in a pump in which the fluid handled must be kept at a certain temperature.
This is the case when transporting vegetable oil or caustic soda for example. Until now, a complicated additional process was required to weld the channels onto the pump casing.