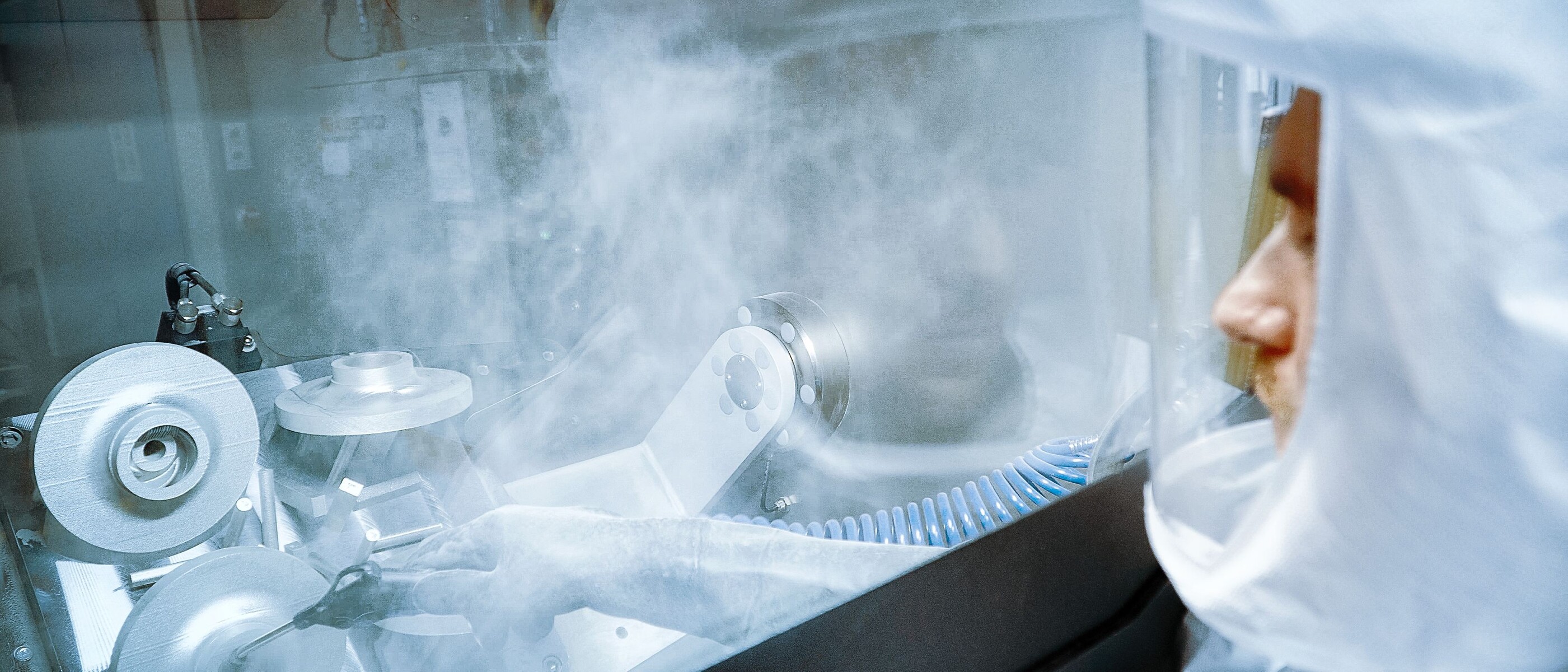 Innovations at KSB: shaping tomorrow
Innovations are the driver of our company. That's why we at KSB have been so successful for moe than 150 years.
KSB's entrepreneurial success is based on consistent research and development, creativity and perseverance with a focus on the needs of customers and the market.
With an eye on the future at all times
To actively shape the future of fluid transport and be able to meet the ever-rising demands our customers place on pumps and valves, we are continuously optimising our existing products and services.
At the same time, we pay close attention to our customers' needs to ensure that we perfectly understand the particular challenges faced by the various industries. This helps us to constantly develop new solutions that meet the needs of the respective markets.
Our in-depth specialist knowledge in hydraulics, materials technology and structural mechanics goes into new product designs and the further development of our products. Our research & development and innovative solutions therefore continue to push the boundaries of what is technically feasible.
In addition, our developers look beyond their specialist disciplines and incorporate insights from sensor technology and acoustics, for instance, or the field of geodata into our products and solutions.
We also develop innovative business models based on new technologies, paving the way for modern services and production methods such as additive manufacturing, or predictive maintenance using networked pumps and our KSB Guard app.
Our customers are always one step ahead with innovations from KSB.
Innovation laboratory for digital ideas
KSB set up the multi-award-winning Business Innovation Lab for the targeted development of new digital business models as well as product and service ideas.
In this think tank, which is separate from the KSB plants and the structures and processes of a large company and thus free from the influences of the demanding day-to-day business, both young and experienced KSB employees collaborate with external experts, students and specialists on ideas for innovative and networked customer solutions for pumps and valves. 
The team also develops solutions to advance the digital transformation of the entire company.
To further accelerate our ability to innovate, we have systematically digitised our ideas management system and integrated it into a central innovation platform, thereby ensuring that employees from all areas of the company can contribute to the innovation process. Our research and development teams can thus draw on the entire pool of knowledge, ideas and expertise that exists across all departments of KSB.
What's more, our digital innovation platform is the central hub for innovation and knowledge management at KSB.
The data we collect in this way allows us to take strategic trend forecasting and technology foresight to a whole new level.
Strengthening innovation through skills development & research networks
Strengthening innovation skills also includes developing new skills in areas such as artificial intelligence, machine learning and networking in the Internet of Things (IoT).
To this end, we have also entered into numerous international cooperations with universities, higher education establishments and research institutes involving extensive research projects for bachelor's and master's theses. It was also possible to acquire EU funding for collaborations in the field of innovative research.
This vital and powerful network helps us identify customer needs at an early stage and develop the solutions that make our customers more successful.