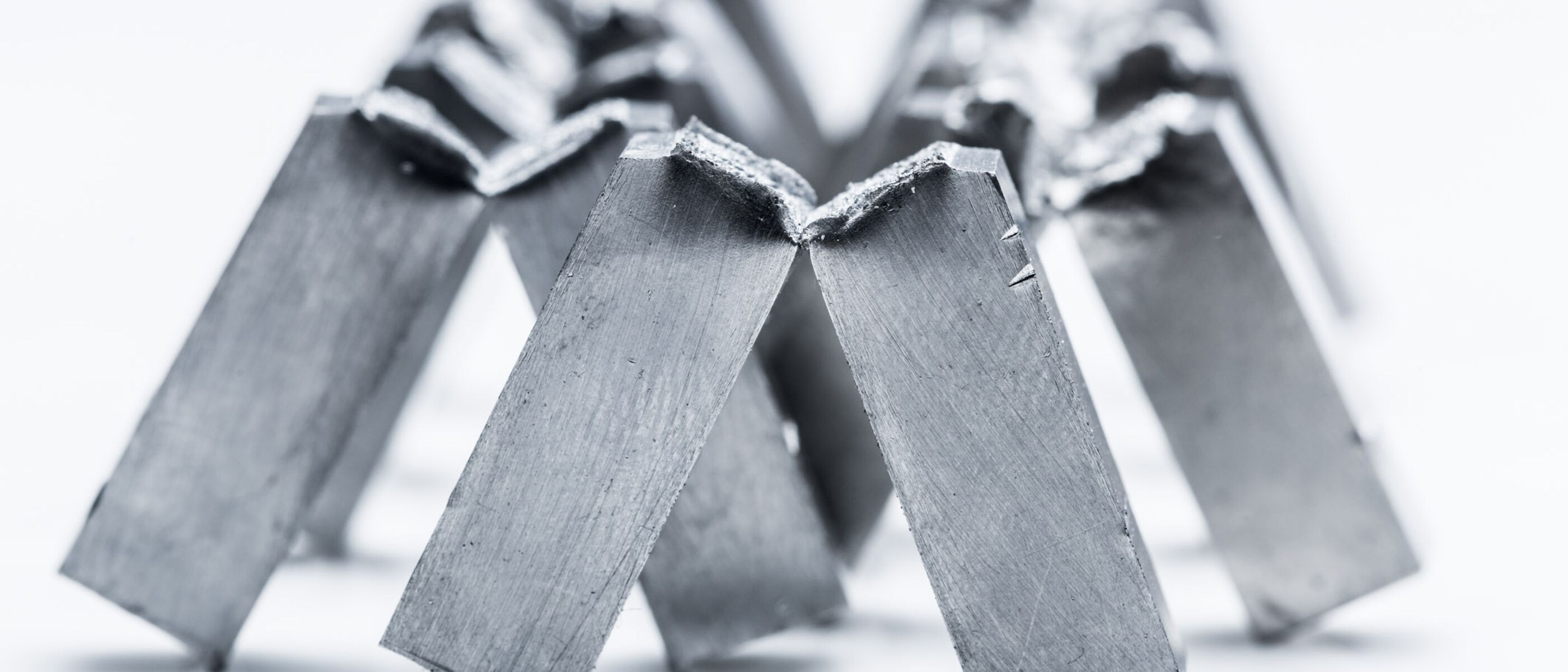 Materials expertise for durable products
For KSB, materials technology is a focus in the development of robust and efficient pumps and valves.
Pumps and valves are subjected to the most extreme stresses: acids, alkalis, extreme temperatures, high pressures and abrasive fluids. To guarantee its customers reliable products, KSB has a dedicated competence centre for materials expertise.
Materials that meet the highest demands
Handling and controlling of fluids place significant demands on pump and valve materials. The requirements of our customers are also increasing worldwide. To improve the economic efficiency of processes and circuits, the individual parts and components have to withstand ever higher operating pressures and temperatures, for example. 
It is often also important to our customers that the material used is particularly resistant to abrasion and corrosion. To meet the increasing demands and ensure outstanding pump and valve performance, KSB's materials development, design, foundry, production and service staff work hand in hand.
Materials expertise makes the difference
At KSB, more than 150 years of experience in highly demanding pump and valve applications has resulted in globally unparalleled expertise in metals, ceramics, polymers, coatings and composite materials.
From the work we do every day and our constant dialogue with customers and users all over the world, we understand how materials behave under a wide variety of conditions and how to optimise them accordingly. For example, we are continuously improving our materials' tribological properties, corrosion resistance and production technology.
Our customers demand maximum reliability. Our materials expertise is key to ensuring this. The expertise of KSB's global competence centre is also much sought after by external companies, especially with regard to materials for additive manufacturing.
Trust is good, but testing with accredited methods is better: tensile strength testing in our materials laboratory in Pegnitz.
At our ISO/IEC 17025-accredited test laboratory for materials, KSB experts subject a wide range of materials and components to mechanical testing and chemical analyses at the highest international level.
The test laboratory works closely with KSB's research and product development as well as consulting and production units, which ensures a continuous exchange of knowledge and the leveraging of synergy effects in the development of new pumps and valves.
However, it is not only KSB's internal departments such as product development and production that benefit from the many years of experience and state-of-the-art facilities of the test laboratory. External customers and those from outside the industry also regularly call upon the expertise of our test laboratory.
A knowledge lead that is underpinned by research
We continue to improve our lead in materials technology knowledge through our own research and development as well as through international cooperation with universities, research institutes and industrial partners. This is how KSB ensures that new ideas and stimuli are quickly incorporated into materials development and the products – and that our customers receive products that meet the highest standards in technology and material quality.
The wear-resistant and/or corrosion-resistant pump and valve materials used in the NORI® type series, for example, were all entirely developed by KSB. We manufacture these special materials at our foundry in Pegnitz – one of our eight state-of-the-art foundries worldwide. This enables us to produce castings in close proximity to our international customers.
More than 80 different materials are cast at the foundry in Pegnitz, for example. Here, our focus is on high-quality materials such as special steels and non-ferrous materials.
Thanks to our casting and materials expertise, our customers can be confident that our pumps and valves will withstand even the most demanding operating conditions.
With its considerable innovative strength and development experience, KSB is one of the leading pump and valve manufacturers. In publicly funded joint projects on additive manufacturing and materials science, we want to push the boundaries of materials technology even further.
Together with partners from research and industry, KSB investigates, for example, the resource-efficient manufacture of steel, titanium or aluminium components using additive manufacturing. Other projects have focused on optimising coatings for plain bearing applications.
The success of KSB's basic research and product development is reflected in a large number of patent applications. One thing is certain: the success story of materials technology at KSB will also continue.