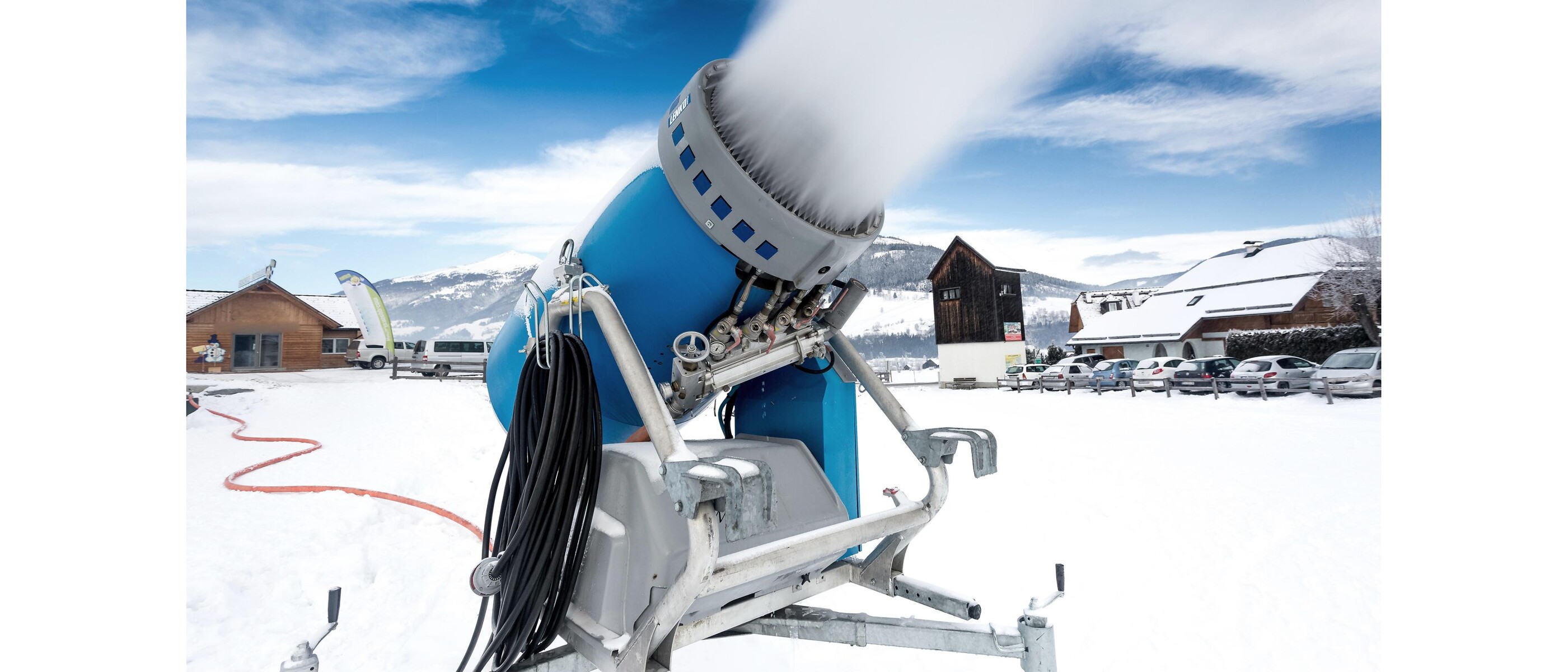 Snow-Making Equipment
Snow making with KSB – for boundless winter fun
Climate change is making our winters milder and milder. KSB's energy-efficient components for snow making leave winter sports resorts less dependent on the weather and guarantee great slopes. 
Perfect snow making – as challenging as the slopes themselves
Snow-making equipment tends to consume a lot of energy and incur relatively high operating costs. Our winters are also becoming milder, shortening the winter sports season. It is therefore important that the pumps installed in these systems – e.g. submersible motor pumps or high-pressure pumps from KSB – are not "energy guzzlers". Instead, they should make a positive contribution to total life cycle costs. 
But this cannot come at the cost of performance: Pumps and valves employed in snow making must be able to perform excellently at all times and work reliably even under high pressure, as water extracted from streams or rivers sometimes has to be raised hundreds of metres in altitude.
Impressive winter landscapes – thanks to robust technology from KSB
KSB's energy-efficient pumps reduce the operating costs of your snow-making equipment and thus minimise the total life cycle costs. Featuring sturdy materials and larger dimensions of impellers and bearings as well as casings with large wall thicknesses, the robust design of cast steel pumps from KSB makes for a long service life. With its submersible motor pumps, submersible borehole pumps and high-pressure pumps, KSB offers the right technology wherever needed in snow-making equipment.
Products from KSB: unbeatable performance on every slope
KSB pumps make the operation of snow-making machines extremely cost-effective and energy-efficient – especially if they are equipped with automation technology such as PumpDrive which automatically adjusts the flow rate to provide the output required. 
KSB automation solutions record all relevant operating data and optimise the pumps' energy efficiency. Cutting-edge monitoring equipment enables you to keep track of all operations at any time. 
KSB high-pressure pumps for snow-making machines are also used in industry. Here, robust design and smooth operation are crucial, and these pumps are engineered for reliability. They help you avoid downtimes and their expensive consequences. 
KSB products and services have proven their worth in many regions synonymous with winter sports all over the world including major ski resorts in Germany, Austria, Switzerland, France and Italy. 
Benefit from 24-hour service and comprehensive consultation – from planning and commissioning all the way to maintenance and repair.
Discover products for your application in our Finnish product catalogue and integrated webshop!