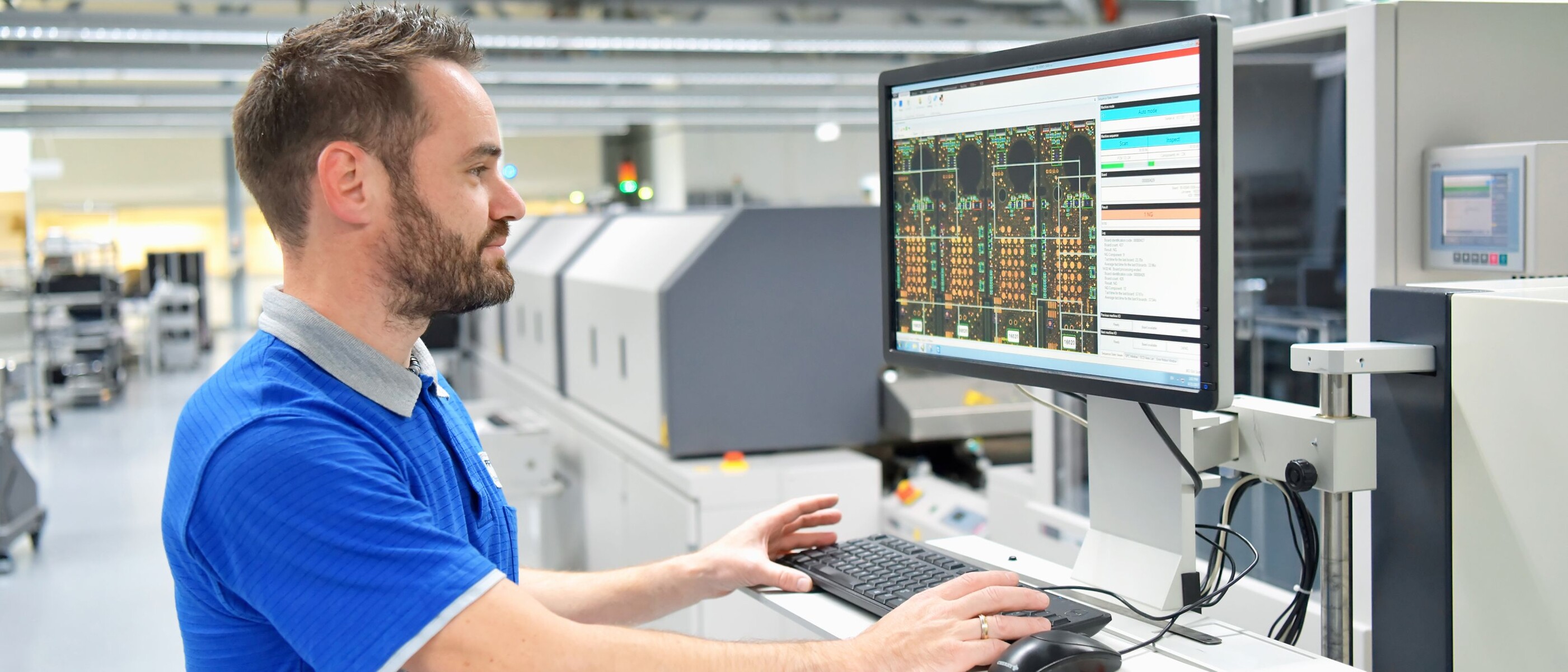 Industrial Internet of Things: Monitoring is the ideal way to get started with digitalisation
It's never been easier to start the digitalisation process for your system components. Find out more about the possibilities and benefits of smart monitoring – also for existing systems.
App-controlled heating, smart watches with integrated heart rate monitors and networked cars are just a few examples of the now common Internet of Things (IoT) applications in the consumer segment. New applications in this area are being continually presented to the general public, yet other digital revolutions are also taking place in thousands of factories, industrial facilities and production centres around the world – albeit more quietly, but their impact is no less disruptive.
While self-learning production processes, smart logistics systems and self-controlling plants may sound like science fiction, they are already reality and are being used in many applications. Intelligent systems are already controlling entire production lines in so-called "smart factories". But it's not only in areas such as car manufacturing that smart factory principles are being used. They are also in operation in many other areas of industrial production, logistics, the chemical industry and prototyping. Even in agriculture digitalisation is being increasingly used under the buzzword of "smart farming".
The objectives of smart production are clear: improved operational efficiency, reduced costs, greater flexibility and the ability to react quickly and individually to changing customer requirements, fluctuations in demand and external framework conditions. When used the right way, this kind of production increases the growth, competitiveness and future viability of a company.
Why many companies still hesitate to make the switch

Given the undeniable advantages, why haven't more systems already gone "smart" in Germany? According to a study by the Mechanical Engineering Industry Association1 (VDMA):
"While many large companies are already trying to use the potentials of digitalisation for their business model and have initiated innovation processes, medium-sized companies are still reluctant. The reasons for this are complex and are partly due to uncertainties regarding implementation strategies. There are also concerns about the costs and risks of the investment and the potential benefits that can be expected."
In other words, the questions that many medium-sized companies are asking themselves and are causing hesitation are understandable: 
How can my company profit from digitalisation and what costs are involved?
What's an easy way to get started with digitalisation successfully and what measures need to be implemented?
Yet it's precisely medium-sized enterprises that hold the greatest potential when it comes to digitalisation. Over 90 % of all companies in Germany are medium-sized businesses, accounting for more than half the value created and providing nearly 60 % of all jobs . 2 And it's not only the private sector that needs to make changes – municipalities can also benefit.
Many of these medium-sized enterprises are hoping that digitalisation will bring them simplified work processes, growth in sales revenue and innovations in both products and services. But a far greater degree of digitalisation is possible. When asked about their level of of digitalisation on a scale of one (very low) to five (very high), Germany's medium-sized businesses rated themselves at around three overall.3
Does a pumping station have to be "smart"?
In what areas is digitalisation a good idea?
The trouble-free handling of fluids is a good example of a sub-area in industry where the initial hurdles to digitalisation are very low but the potential advantages are all the more promising.
Pumps in their various applications often form the backbone of many industrial processes. Whether directly integrated into primary processes (e.g. in the production of beverage or dairy products in the food industry, in the pharmaceuticals industry, etc.) or in secondary applications (e.g. heat transfer fluid pumps, water or chemical pumps, in cooling circuits, etc.), pumps are often system-critical components whose failure can have extensive consequences.
But it's not only in classical production processes that pumps play a decisive role. Correctly functioning pumps are also absolutely essential in applications such as building services (water supply, drainage, heating/air-conditioning/ventilation), energy (power plants) and municipal water and waste water. Here, too, malfunctions can disrupt the smooth running of processes and cause serious problems.
In many applications digitalisation makes an important contribution to:
Increasing system availability
Reducing maintenance costs through intelligent analysis of operating and status data
Increasing efficiency.
But how exactly does this work?
The smart way to get started with digitalisation: Sensors create the basis
A self-thinking, self-controlling, almost fully automatic smart factory that delivers maximum performance is the ultimate goal of Industry 4.0 – but the basis for such high-end production environments is surprisingly simple and the same for all applications: sensors! They continually supply all the necessary data via a wide range of status and performance values. It is only on the basis of such digital sensor data that intelligent control systems are capable of making decisions.
Even just a few years ago these kinds of sensors were not fully developed, error-prone, expensive and only available for a handful of applications. However, the situation has now changed fundamentally. Today, all required components such as the sensors themselves as well as connected computer systems, cloud services and broadband connections via mobile networks are widely available for fast data exchange and can be acquired very inexpensively compared with the benefits available.
An ideally comprehensive level of sensor coverage creates a form of "digital transparency", which in turn provides a whole host of advantages:
Continuous data recording
Centralised monitoring of all connected components (saving time and manpower)
Integration of the data into existing systems via interfaces
Analysis of data recorded directly on equipment can be usefully employed, for example for predictive maintenance.
Predictive maintenance: Acting proactively increases efficiency
You don't have to go as far as a fully automated smart factory – fitting sensors to a few key system components (e.g. pumps) for continuous monitoring already creates high potential for increasing efficiency. In the area of fluid handling, we are entering an age in which maintenance strategies are fundamentally changing.
The concept of predictive maintenance is now a prime example of how networked sensors can be usefully employed within the scope of the Industrial Internet of Things. For the area of maintenance alone, a VDMA study1 calculated a savings potential of 20 to 30 % of the costs.
The basic principle of predictive maintenance can be divided into three steps:
Continuous recording of relevant pump status and performance data in digital form
Transmission and storage of data in the cloud
Processing of the collected data, e.g. in the form of probability calculations for specific events and transfer into service and maintenance concepts
The decisive advantage of predictive maintenance: the collected data makes it possible to identify pump operating trends, e.g. increasing vibrations. This enables wear or impending damage to be recognised at an early stage and maintenance work to be swiftly instigated – preventing the failure of the pump or even the entire system.
This proactive strategy clearly sets predictive maintenance apart from conventional reactive approaches to maintenance where repair work is only carried out when faults actually occur. As conventional approaches do not proactively prevent failures, this can, in the worst case, lead to prolonged downtimes. Especially when it comes to pumps this can quickly have serious consequences, for example if whole production lines have to be stopped, the entire water supply is interrupted, heating or refrigeration systems fail or waste water can no longer be transported away.
Fitting comparatively inexpensive sensors including peripheral systems and using centralised monitoring software is a much smarter solution – and a future-proof way to get started in the world of predictive maintenance.
KSB Guard: Increased efficiency through digital transparency in fluid handling systems
Getting started with digital pump monitoring is simple and inexpensive – for example with KSB Guard. The smart monitoring solution consists of a small sensor unit and a transmission and battery unit which are simply attached to the pump. A gateway transmits the data recorded at the pump to the cloud from where the measured values can then be accessed via an app or from your desktop. This enables you to easily access all relevant pump status and performance data at any time. The transparency provided makes it possible to plan maintenance work more precisely, reduce downtimes and significantly increase the efficiency of a  pump population. As a full-range supplier, KSB ensures that all pumps and spare parts as well as the associated services are optimally matched to each other – enabling you to make full use of the 20 to 30 % savings potential calculated by the VDMA for maintenance work.
KSB Guard in operation: Examples from different industries in practice
Smart monitoring as the easy way to get started with digitalisation:
Summary and conclusions
Taking the first step towards digitalisation is easier than most companies think. The costs and workload involved in installing the sensor units are low – but the potential benefits are very high. Predictive maintenance alone can deliver savings of 20 to 30 % 4 of the maintenance costs. Further benefits include increased efficiency, higher operating reliability and greater system availability. As a full-range supplier, KSB has the expertise, products and associated services that make it especially easy for customers to get started with digitalisation.
1 VDMA guideline "Investment calculation for digitisation projects and industry 4.0 projects", March 2018
2,3 https://bdi.eu/media/presse/publikationen/mittelstand-und-familienunternehmen/Faktencheck_Mittelstand_Familienunternehmen_230915.pdf 
4 Estimation of the maximum potential saving made with help from sources including: VDMA investment calculator; German Academic Association for Production Technology (Wissenschaftliche Gesellschaft für Produktionstechnik, WGP) Position Paper "Standpunkt Industrie 4.0"