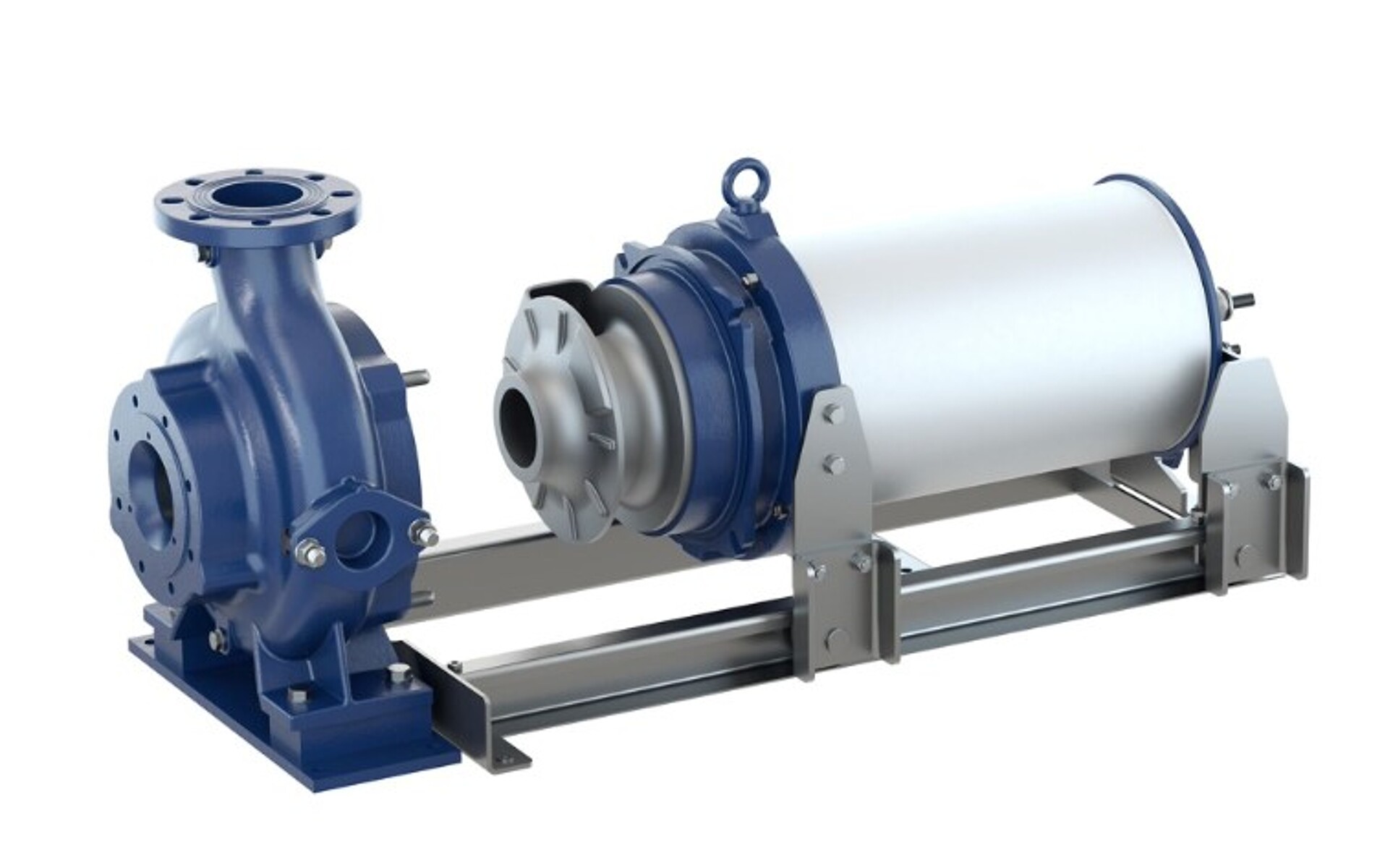 Remains cool, even in dirty conditions: the Amarex KRT submersible motor pump with cooling jacket
In addition to maximum operational reliability, we at KSB always attach great importance to the high efficiency of our products - not only to save operators energy costs, but also for better climate justice.
Using less energy for reliable waste water transport

The global population keeps growing continuously – and so does the demand for intelligent solutions for efficient and reliable waste water disposal. The new compact Amarex KRT submersible motor pump complements KSB's product range, offering the right pump set for the most diverse of applications. 
The new models are available with a drive rating of 10 - 65 kW and can be installed vertically or horizontally. Since the pump motors remain fully operational when not submerged, the pump sets can also be used in pump sumps when water levels have dropped. Further benefits:
High-efficiency IE3* motors and variable hydraulic systems for optimum hydraulic efficiency and energy efficiency.
New D-max impeller with enhanced efficiency for handling waste water.
Suitable for use in all ATEX rated environments.
Motor cooling via a closed circuit: No contact between the circulating water-glycol mixture and the fluid handled.
Suitable for fluid temperatures of up to 40°C and ambient temperatures of up to 55°C – perfect for use in countries with high ambient temperatures. No air-conditioning is required for ambient temperatures of up to 55°C.
Temperature and moisture sensors fitted as standard for accurate operation monitoring and analysis with the Amacontrol III protection module. Additional condition monitoring sensors available upon request.
* IEC 60034-30 standard not binding for submersible motors. Efficiencies calculated/determined according to the measurement method specified in IEC 60034-2. The marking is used for submersible motors whose efficiencies are comparable to those of standardised motors to IEC 60034-30.
KSB - 4STK mechanical seal
A critical point of many pumps is the mechanical seal between the rotating shaft and the stationary pump casing. KSB has now developed a special mechanical seal for dry-installed pumps of the Amarex KRT type series that are fitted with a cooling jacket.
The 4STK model is a double cartridge seal that, if necessary, can be replaced as a complete unit to make servicing work easier and faster. The seal can be dismantled without the need to remove the discharge cover. Further, an impeller integrated between the seal at the impeller end and the seal at the motor end ensures the best possible circulation of the cooling liquid.
Amarex KRT
Horizontal or vertical single-stage submersible motor pump in close-coupled design, with various next-generation impeller types, for wet or dry installation, stationary or transportable version, with energy-saving motor and models for use in potentially explosive atmospheres.
AmaControl
Protection module for water and waste water products as all-in-one device. Depending on the variant, it can be used for motor temperature measurement, bearing temperature measurement, leakage measurement, vibration measurement, voltage measurement and current measurement as well as for diagnosing a pump, pump system or submersible mixer to ensure trouble-free and reliable operation.
HERA-BD
Knife gate valve to DIN/EN with wafer-type single-piece or two-piece body made of nodular cast iron, bi-directional, with gland packing, non-rising stem, corrosion-protected by epoxy coating.