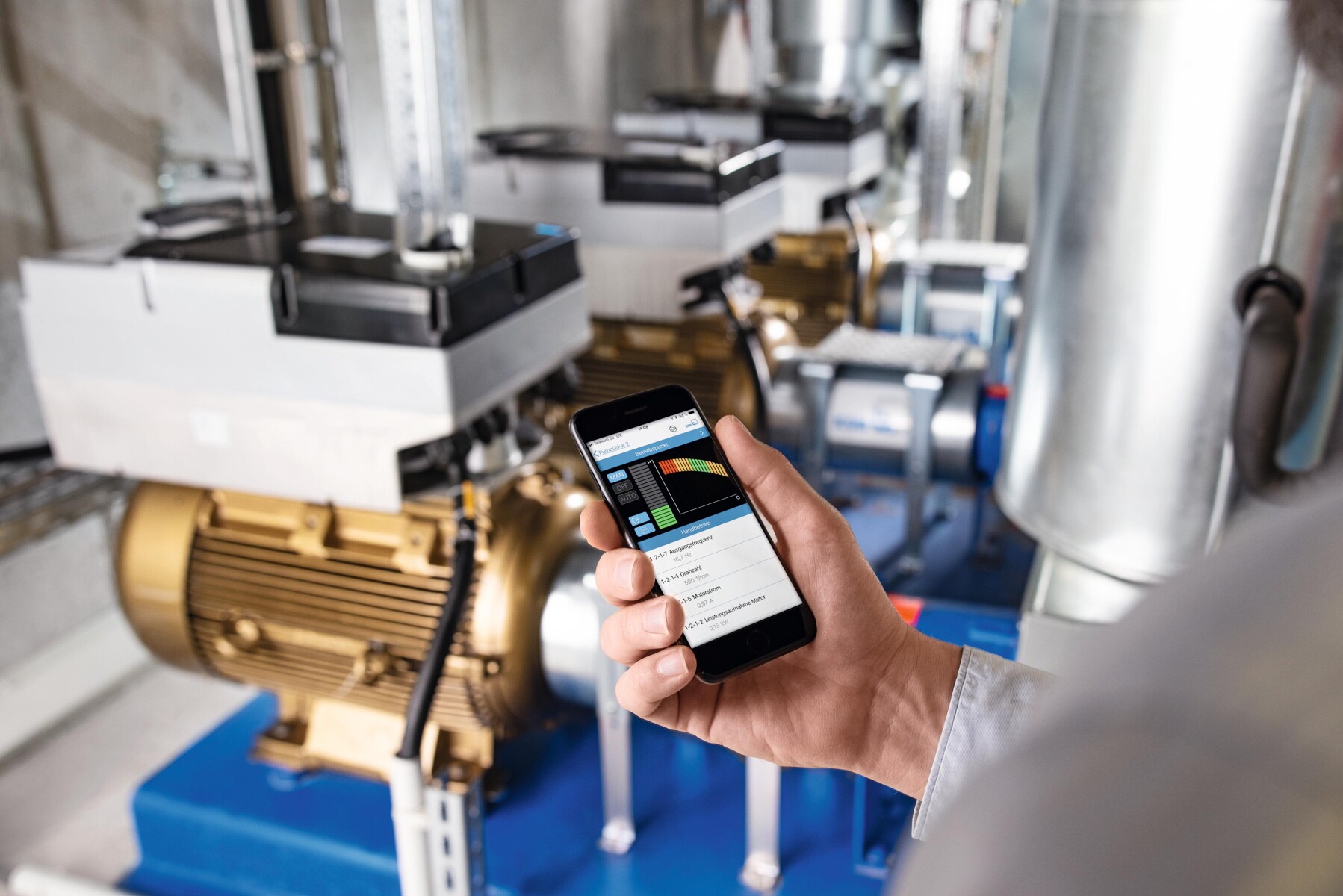 KSB FlowManager App
The KSB app that makes operating your pumps easier
The pump on your smartphone: Configure and operate PumpDrive or MyFlow Drive the easy way with the free KSB FlowManager app – for iOS and Android.
Easily operate PumpDrive 2, PumpDrive 2 ECO and MyFlow Drive via smartphone
The KSB FlowManager app gives you an overview of all important parameters and information relating to your pump – directly on your mobile device. Thanks to direct settings options, it also gives you complete control.
Use the app to
easily operate and optimally adjust the PumpDrive 2 variable speed system or
set the fixed speed of MyFlow Drive to the best efficiency point.
With the KSB FlowManager app you can configure and save the following device settings:
Via the parameter view, you can adjust the drive parameters of the pump system to the system requirements.
Configure device

Edit parameters
Save parameters on your smartphone
Transmit parameters to the device

Run device functions
Visualise system data graphically
Display alarms and warnings
Update firmware
Use virtual impeller trimming to subsequently adjust the pump's operating point
Your benefits
Quick and easy adjustment of your system's optimum speed via smartphone
Demand-driven operation enables energy-efficient and reliable pump operation
Excellent economic efficiency thanks to lower energy and life cycle costs of pumps
Easy communication via external Bluetooth gateway
The external Bluetooth interface enables wireless communication with smartphones, tablets or notebooks. The gateway is simply connected to the service interface externally.
The gateway also has an additional interface for a mini-USB cable (for communication with a notebook or for charging the battery) as well as an "on-off" button for battery-saving operation or to switch between Bluetooth and USB mode.
You can download the KSB FlowManager app free of charge for your smartphone or tablet. The pump app is available for Android and Apple devices.