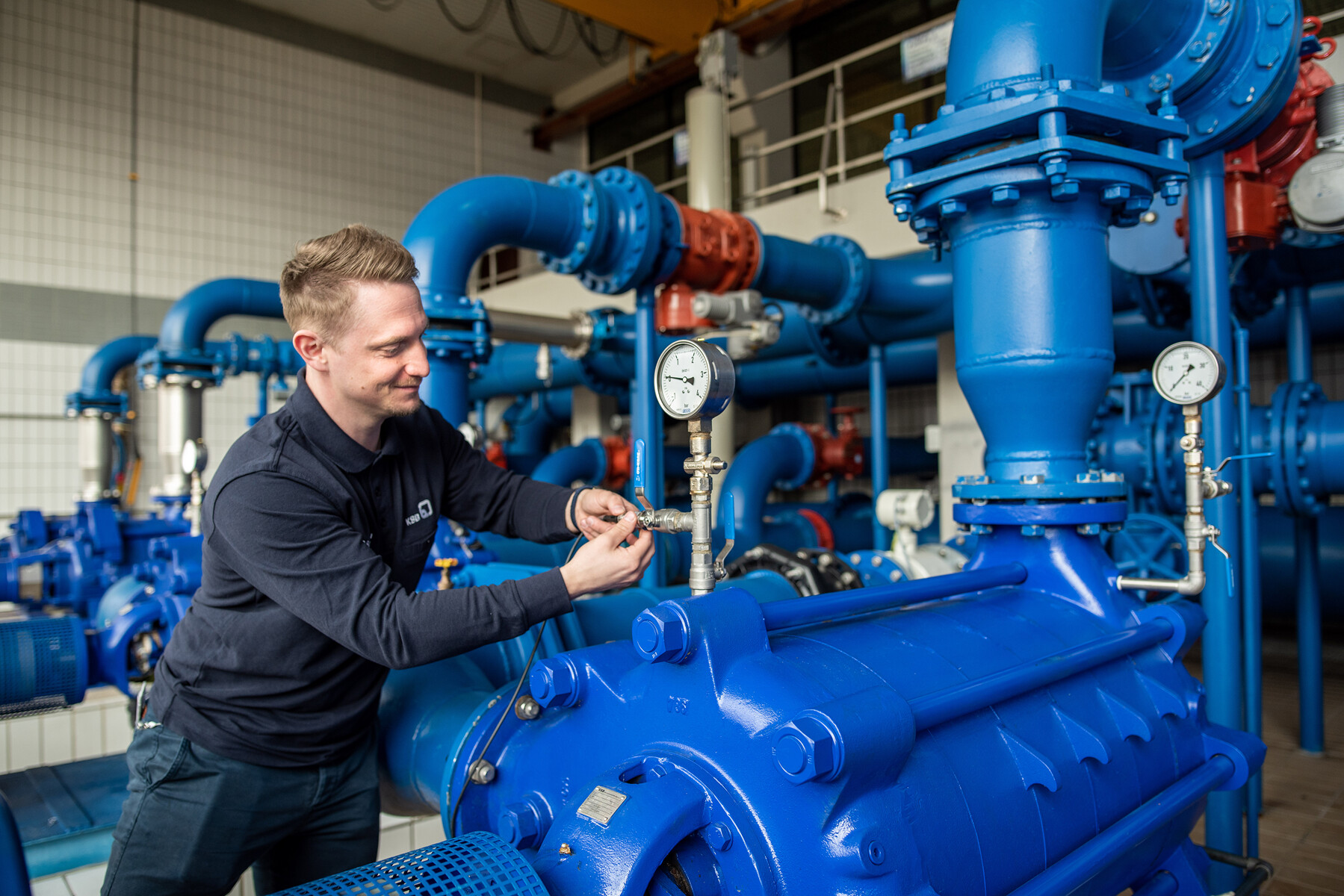 Intelligent controlling and monitoring, for greater efficiency and operating reliability
Optimise your systems with integrated intelligence.
Whether you are installing a new system or retrofitting an existing one, KSB provides components to help you control and monitor your pumps. Our customised solutions not only lay the foundations for energy-efficient operation but also ensure operating reliability and system availability. Moreover, they are easily integrated into existing process control systems.
Overview of KSB automation solutions for water and waste water applications
| | | |
| --- | --- | --- |
| | Supports controlling | Supports monitoring |
| Frequency inverter | PumpDrive | PumpDrive |
| Control unit | LevelControl | |
| Pressure sensors | PumpMeter | PumpMeter |
| Vibration sensors | | KSB Guard for dry-installed centrifugal pumps |
| Temperature sensors | | AmaControl for submersible motor pumps |
Control systems for greater efficiency
Since systems in water and waste water applications frequently work under strongly fluctuating load profiles, it pays to use control systems to not only operate pumps as efficiently as possible but also conserve valuable energy. This mainly involves frequency inverters that allow demand-driven pump operation, or systems that enable the pump to control itself.
Our KSB PumpDrive provides you with a self-cooling frequency inverter to control pumps through a continuously variable speed adjustment, while the smart KSB PumpMeter has pressure sensors to help you dynamically control individual pumps. Both systems can be easily integrated into your existing pump population. Thanks to its extensive features, the LevelControl control unit ensures a high degree of system availability.
Comprehensive pump monitoring pays off in more ways than one. You reap the benefits of better energy security and greater operating reliability. If pumps do not operate within their optimum range, their energy consumption is disproportionately high and they may also experience premature wear due to undetected vibrations, for example. In the worst-case scenario, this may result in costly breakdowns that could have been avoided.
KSB Guard
The smart and comprehensive monitoring service for pumps and other rotating machinery, available 24/7 and also for non-KSB pumps. Benefit from predictive maintenance with KSB: comprehensive transparency, increased availability, enhanced operating reliability and efficient operation (of fixed-speed pumps). Important operating data such as vibrations, temperature, operating hours and load condition (of fixed-speed pumps) can be accessed via KSB Guard, anytime and from anywhere. In addition, deviations from normal operation trigger immediate notifications via the KSB Guard web portal and/or app. The experts at the KSB Monitoring Centre also provide support in analysing causes.
AmaControl
Protection module for water and waste water products as all-in-one device. Depending on the variant, it can be used for motor temperature measurement, bearing temperature measurement, leakage measurement, vibration measurement, voltage measurement and current measurement as well as for diagnosing a pump, pump system or submersible mixer to ensure trouble-free and reliable operation.