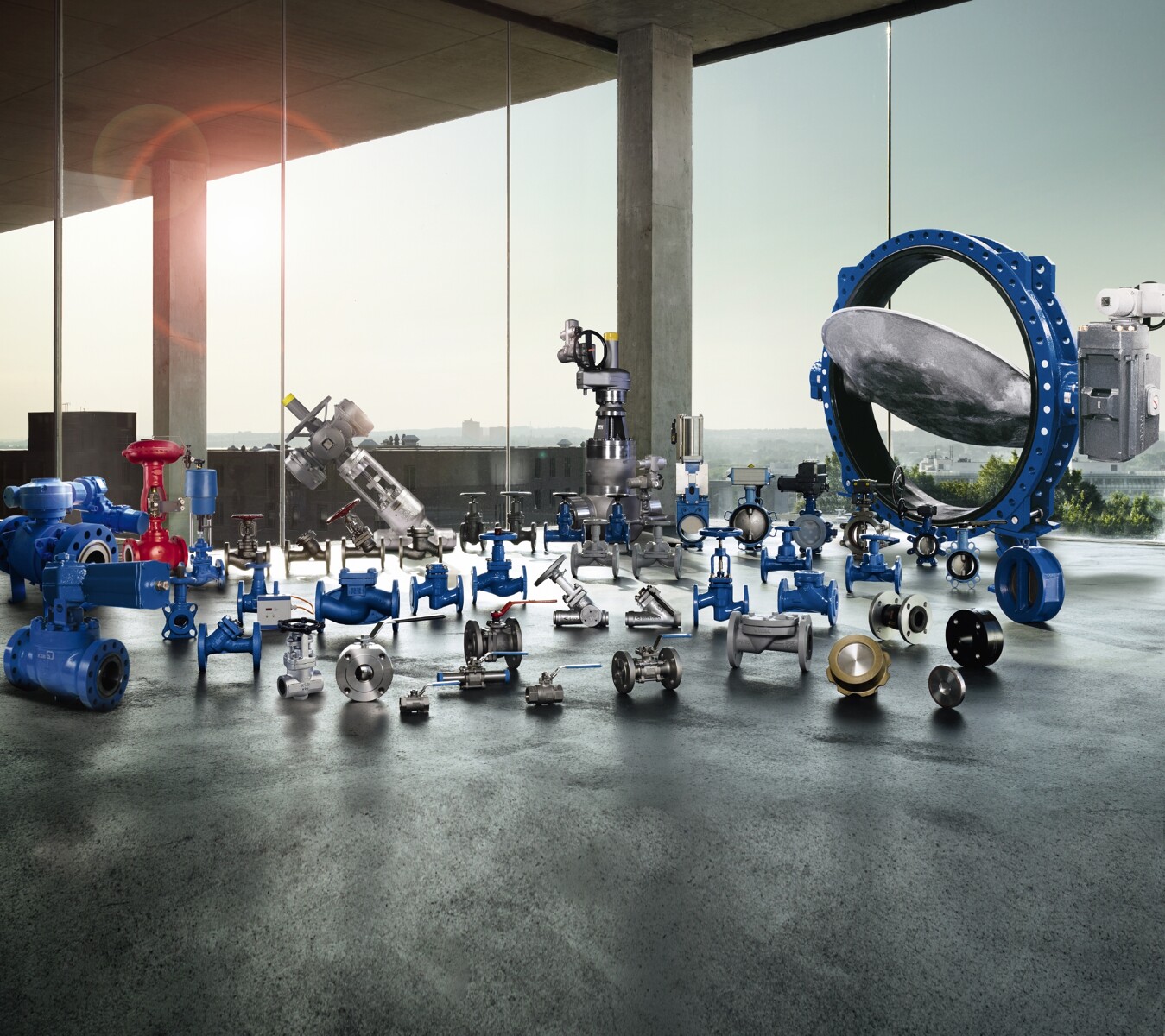 KSB valves
To manage your fluids, you can choose not only pumps but also valves from KSB, the manufacturer of pumps and valves.
A valve is either open or closed. But as simple as this may sound, the technology involved is becoming increasingly complex in order to meet requirements in terms of service life, precision and value for money.
Suitable for the wide variety of industrial fluids and processes
The KSB ranges of valves and filters meet high quality standards with regard to the opening/closing function as well as with regard to controlling fluids in a wide range of sectors such as energy, industry, chemistry, life sciences, water, marine and building services.
They are used in a wide variety of applications such as heating systems and networks, water supply systems, pumping stations, clean water and waste water treatment plants, industrial utilities and processes, technical circuits in fleets of ships and circuits associated with the production of energy from conventional or renewable resources. 
Three things about the Roche-Chalais factory
KSB manufactures centred-disc and double-offset or triple-offset butterfly valves
Since 1966, KSB has been making progress in butterfly valve technology, with innovations devised by the teams at its research and development centre and delivered with the help of continuously modernised manufacturing equipment. KSB's AMRI brand of butterfly valves enjoys a good reputation worldwide. 
KSB produces elastomers and creates its own formulations
The polymer laboratory at the factory in La Roche-Chalais develops formulations matched to the fluids handled and to valve behaviour in conditions of very high temperatures and pressures. The quality of KSB elastomers is demonstrated by their durability. They can be found in both AMRI butterfly valves and SISTO diaphram valves, another brand of the KSB Group.
KSB provides a guarantee for its all-in solution comprising butterfly valve + actuator + automation equipment
KSB also offers a range of actuation equipment of four different types – manual, pneumatic, electric and hydraulic – as well as an automation range (AMTROBOX, AMTRONIC, SMARTRONIC) for controlling positioning. To ensure optimal service quality, KSB's butterfly valves sites (La Roche-Chalais in France and Burgos in Spain) take care of all aspects of customer service, from product design through to maintenance at customer premises and including both manufacture and after-sales service.
The KSB valves portfolios for your markets