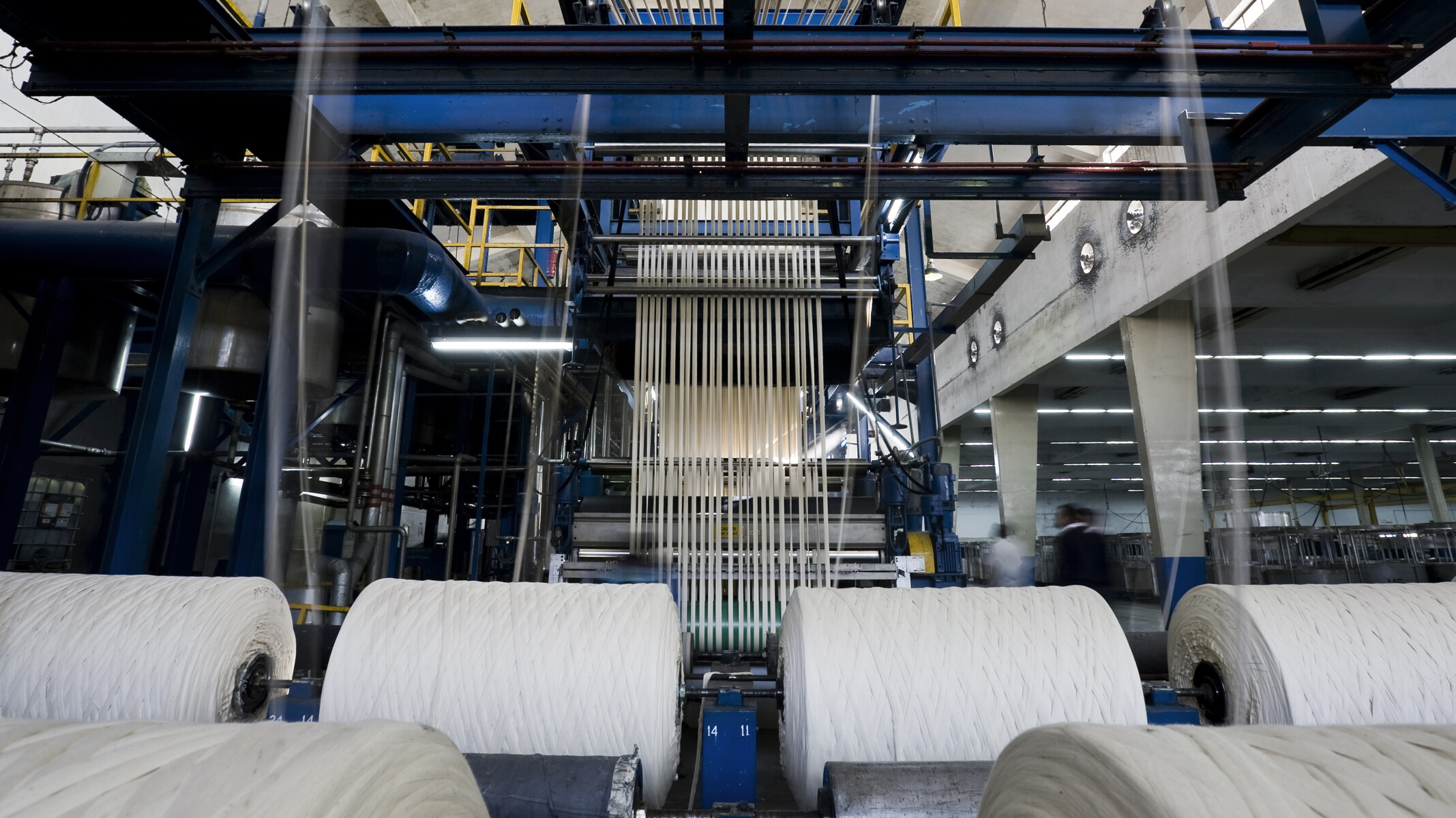 Textile Industry
KSB products improve all processes in textile industry applications
In the textile industry, textile fibres are manufactured and processed using large quantities of water and energy. This demands innovative, efficient products – a perfect fit for KSB pumps.
An ambitious challenge: meeting requirements in the textile industry
While yarn production itself places relatively modest demands on pumps in the textile industry, they must meet far more exacting requirements in textile production's final treatment processes. Here, bleaching agents, dyes and other fluids can cause unwanted damage, colour mixing and contamination in the system. The solids content of the fluid handled also increases over the course of the textile manufacturing process. 
This requires pumps which can withstand sometimes aggressive fluids and do not clog despite the adverse conditions. And pumps should also be energy-efficient, since textile processing requires large amounts of water and power.
KSB's products offer advantages worth showing off
KSB pumps and valves support trouble-free, efficient fibre and yarn production, dyeing, bleaching and finishing for textile industry applications. In yarn production for example, the pumps are used in air treatment and air conditioning. For final treatment processes, KSB supplies robust stainless steel pumps and products that are easy to clean and thus prevent damage, paint mixing and contamination. This means that KSB pumps can ensure reliable and trouble-free system operation at all times – regardless of the fluid handled. 
And because energy consumption is such an important issue in textile production, KSB pumps are designed to help you operate your plant as energy-efficiently as possible.
KSB pumps for the textile industry outdo expectations
Pumps and valves from KSB are tailored to the special requirements of the textile and clothing industry in terms of their materials and design. The result: a long service life and low maintenance costs. 
In addition, KSB's products can be equipped with specialised control systems which enhance their long-term operational efficiency and reliability. 
KSB's star performer for textile production is the MegaCPK, a standardised chemical pump. It is regarded as the basis for numerous standards, and is particularly suitable for pumping aggressive fluids. The MegaCPK is also known for its energy efficiency and operating reliability in a wide range of variants.  
In addition, KSB has many years of experience and expertise in the field of textile processing and offers you not only innovative products, but also a comprehensive range of service solutions.
BOA-H
Bellows-type globe valve to DIN/EN with flanged ends, with on/off disc or throttling plug, standard position indicator with colour coding for identification of valve design, replaceable valve disc; bellows protected when valve is in fully open position; seat/disc interface made of wear and corrosion resistant chrome steel or chrome nickel steel.
ISORIA 10/16
Centred-disc butterfly valve with ISO 5211 compliant square shaft end, sealed by elastomer liner, with lever or manual gearbox, pneumatic, electric or hydraulic actuator. Wafer-type body (T1), semi-lug body (T2), full-lug body (T4) or U-section body with flat faces (T5). Body types T2 and T4 are suitable for downstream dismantling and dead-end service with counterflange. Connections to EN, ASME, JIS.
KE
Centred-disc butterfly valve with ISO 5211 compliant square shaft end and PFA liner. With lever, manual gearbox, pneumatic or electric actuator. With wafer-type body (T1), full-lug body (T4) or U-section body with raised faces (T6). EN, ASME, JIS connections possible.