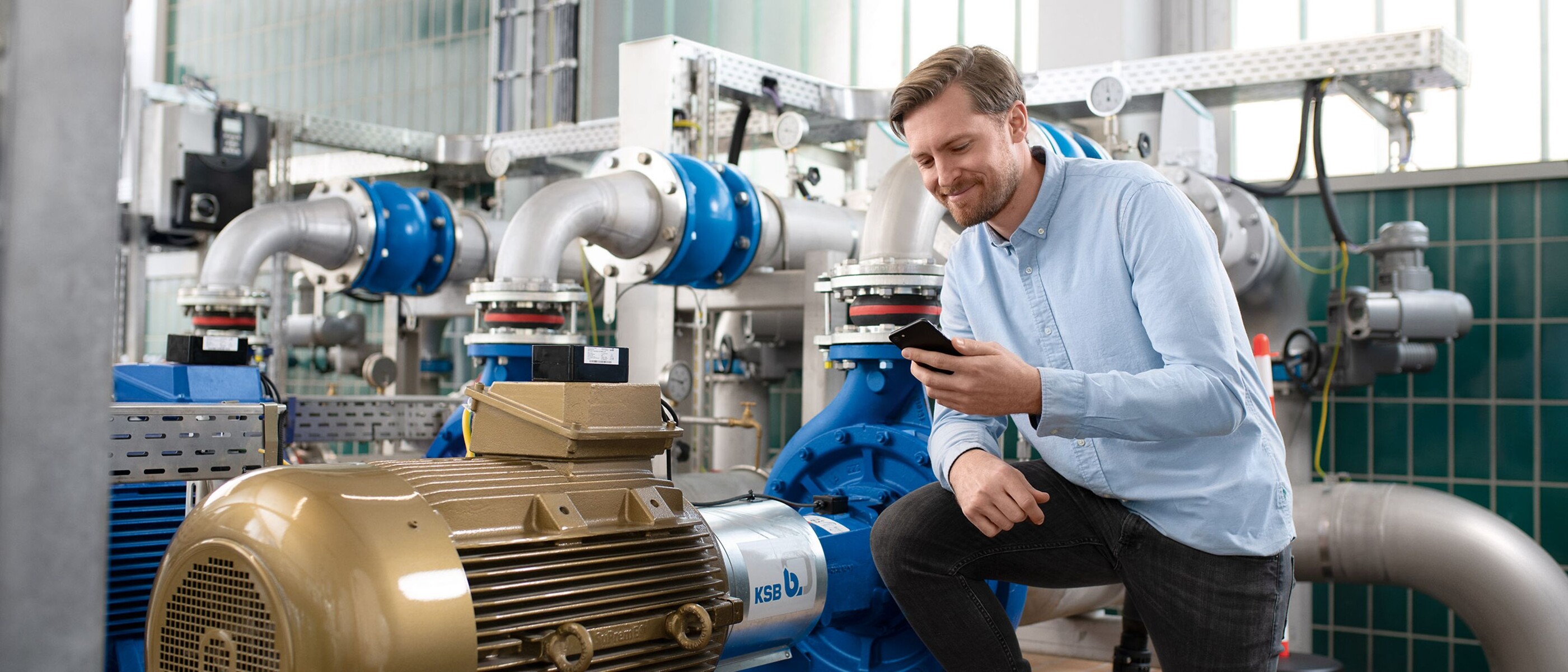 KSB Guard
Comprehensive monitoring of your pumps
Maximise your system availability and maintenance efficiency: KSB Guard offers you pump monitoring in real time – enabling you to effectively optimise your maintenance strategy and increase system availability and efficiency
What are the advantages of KSB Guard?
KSB Guard offers you the benefit of continuous digital data recording, giving you a perfect status overview of your pump population. This enables you to optimise maintenance, reduce downtimes and significantly increase your system's efficiency.
The smart pump monitoring system KSB Guard
The system consists of hardware components that are linked to a KSB Cloud app, enabling you to remotely monitor the status and operating data of your pumps. The digital pump solution simultaneously monitors all connected pumps and immediately notifies you if any irregularities are detected.
1. Sensor unit: A vibration sensor and a temperature sensor record data directly at the pump.

2. Transmission and battery unit: Supplies power to the sensor unit and transfers measurement data to
the gateway.

3. Gateway: Transfers data via the mobile phone network to the KSB Cloud while maintaining the highest
security standards.

4. KSB Guard web portal and KSB app: Data and additional information on the pump can be evaluated
conveniently and easily in the app or accessed via a computer.
The KSB Guard app
Via the KSB Guard app or web portal, you can keep an eye on the operating status of each individual pump ─ anytime, anywhere. What's more, KSB Guard helps you to plan, document and track maintenance work with just a few clicks.
SB Guard helps you to efficiently plan maintenance and pump servicing.
From purchase to commissioning – you can easily take care of everything yourself.

KSB Guard is easy to start up in just four steps:
Order KSB Guard from the online shop and attach the sensor unit to the pump using magnets and industrial adhesive.
Mount the transmission and battery unit near the sensor wherever is most convenient.
Suspend the gateway near the pump, connect the plug to the mains and check mobile reception.
Make a few basic data entries for each pump on the computer or using your smartphone ─ done.
Customers who are already benefiting from KSB Guard
KSB Guard digital monitoring tool