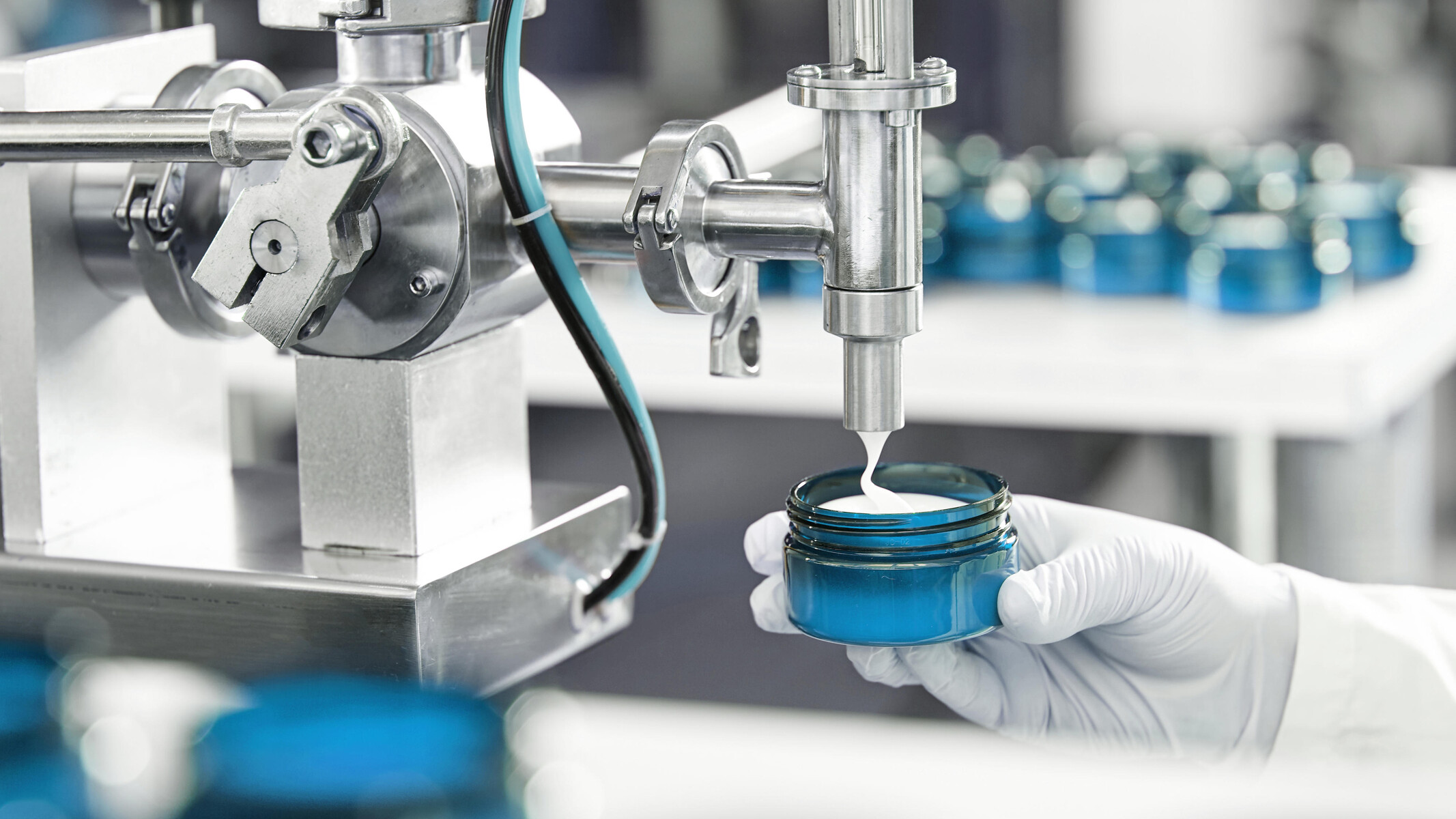 Pharmaceutical and Cosmetics Production
Beauty for your balance sheet: KSB hygienic pumps and valves for sterile processes
Cosmetics and pharmaceuticals manufacturing is subject to the most stringent hygiene and quality standards. KSB offers efficient and reliable solutions for every requirement. 
Reliability and cost control are essential in pharmaceutical and cosmetics production
Manufacturing pharmaceutical and cosmetic products places extremely high demands on components – especially in terms of maintenance and cleaning.
In addition to application-specific requirements, products used in pharmaceutical and cosmetics production must also offer impressive cost effectiveness. The key here is avoiding costly unplanned downtimes.
KSB products for pharmaceutical and cosmetics production: reliable, flexible, durable
KSB offers a broad portfolio of reliable and low-maintenance pumps for sterile processes in hygienic design. This means that you will always find the right product for your needs at KSB. 
Rely on outstanding KSB product quality, minimise unplanned downtime and lower your total cost of ownership.
You stand to benefit from KSB's status as a full-range supplier specialising both in hygiene and secondary processes. In addition to pumps and valves for peripheral systems, KSB can also offer you a wide range of products for hygiene applications.
Highest product quality for the most exacting demands in the production of cosmetics and pharmaceuticals
The Vita pump range from KSB is the first choice for all hygiene and sterile processes in pharmaceutical and cosmetics production. With their design minimising dead volume, Vita pumps ensure absolutely sterile processes. The extensive Vita pump family offers the right product for every requirement.
KSB's hygienic pumps are designed in line with the hygienic design requirements of EHEDG and EC regulation 1935/2004. No matter whether pumping, dosing or filling: Designs minimising dead volume ensure a longer shelf life of the end product and optimise the cleaning processes.  
 
KSB's pharmaceutical pumps are manufactured from absolutely hygienic, CIP/SIP-compatible materials. They are able to process, pump and dose fluids and highly viscous media especially gently – and thus fulfil a further quality criterion.  
 
At KSB, a special LSA team (Life Sciences Applications) is on hand to help. The team has been trained for the requirements of the pharmaceuticals and cosmetics sector and has broad application knowledge.
SISTO-C
Diaphragm valve with butt weld ends or clamps; in straight-way, Y or T pattern, or as a multi-port valve; shut-off and sealing to atmosphere by confined and supported diaphragm. No dead volumes, suitable for sterilisation, SIP/CIP-compliant design, position indicator. All moving parts are separated from the fluid by the diaphragm. Maintenance-free.
KE
Centred-disc butterfly valve with ISO 5211 compliant square shaft end and PFA liner. With lever, manual gearbox, pneumatic or electric actuator. With wafer-type body (T1), full-lug body (T4) or U-section body with raised faces (T6). EN, ASME, JIS connections possible.
MIL 21000
Top-guided single-ported heavy post-guided control valve for a wide temperature range.