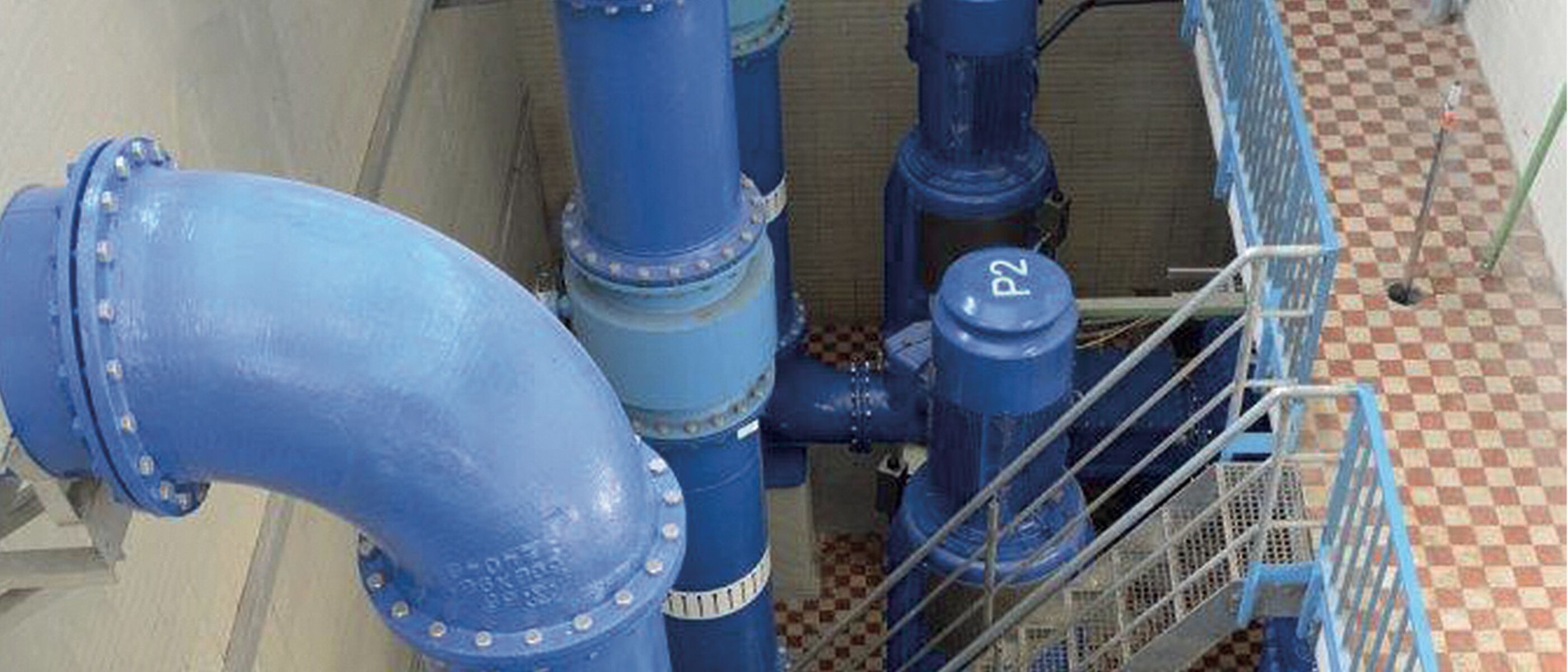 Submersible Pumps: wastewater workhorses
Submersible pumps are commonly used in wastewater management facilities to move water/sludge mixtures through the treatment process. 
Submersible pumps are commonly used in wastewater management facilities to move water/sludge mixtures through the treatment process. 
In a typical installation, a submersible pump will be submerged in a tank or reservoir, held in place by an arrangement of wires or rails that position the pump's outlet nozzle over the end of the pipe system that carries the water to its next destination. The inlet nozzle – typically located on the bottom of the pump – draws directly from the surrounding water. The pump is normally located near the bottom of the tank while it is running. When a blockage occurs, or when maintenance is required, it can be shut down and pulled to the surface. Since raw, untreated wastewater from domestic or industrial sources will often contain a variety of solid or fibrous materials (cloth, pieces of wood, plastic in various forms, agricultural materials etc.) removing blockages from pumps is an unpleasant but common activity in wastewater treatment facilities.
Minimizing Total Cost of Ownership (TCO)
The largest cost component is manpower – the time spent installing, un-clogging and maintaining the pump. Power (electricity cost) is the second largest component, followed by service – repairs and replacement of worn or broken parts. Over the full operating lifetime of the pump, purchase price contributes only about 5% to the total.
The lessons here are clear. To minimize costs, it is important to:
Reduce Operating Costs
While submersible pumps are designed so that it is possible to pull them to the surface whenever they become clogged, it is clearly better to avoid unproductive work by selecting equipment that can deal with most solid or fibrous material in the wastewater stream without blocking or clogging. To reduce the risk of blockage, it is helpful to select equipment with a large free passage ("free passage" is defined as the maximum size of a solid spherical object that can travel through the pump without jamming). To reduce the incidence of clogging due to the presence of fibrous materials (cloth, string, plastic waste etc.), pump manufacturers have introduced a variety of "non-clogging" impellers. These include impellers with built-in cutters (to reduce long pieces of fibrous material in the waste stream), vortex impellers (which draw water through the pump by creating a low-pressure vortex in the intake) and screw-type impellers that feature contours that have been specially designed to avoid catching fibrous material. Each of these designs has relative strengths and weaknesses – what's best for a particular application depends on a careful assessment of the content of the wastewater mix.
The new generation of wastewater pumps: in combination with non-clogging impellers and high-efficiency KSB motors, the Amarex KRT and Sewatec type series offer even better overall efficiency.
Maximize energy efficiency
Since energy costs account for a significant fraction of the total cost of ownership of a pump, it's useful to look at ways of improving energy efficiency. Matching pump operating characteristics to system requirements so that the pump is typically working at or near to its best efficiency point is always a good way of optimizing efficiency, though it must be recognized that wastewater treatment systems are difficult to fine tune since the gradual build-up of deposits on the inner surfaces of the pipe will change the system characteristics over time.
Selecting the right impeller design also has an impact on energy efficiency. Screw-type impellers can deliver higher pumping efficiencies than cutter or vortex impellers, so that if the extra level of clogging resistance is
Maximize pump life
Beyond periodic blockages or clogging, submersible pumps face other challenges. Material caught in the impeller can cause balance problems, even if it doesn't completely clog the pump. This can lead to vibration and extra wear to seals and bearings. If bearings are not properly aligned after overhauls, this can also lead to rough running. Pumps with extra heavy-duty bearings and construction details that help keep bearings and seals properly aligned will last longer.
Water leakage into the motor chamber can also cause serious damage to submersible pumps. Leakage can occur past shaft seals or through the power cable entry. Some pumps – especially larger units – come with moisture sensors that warn the operator if a leak is beginning to occur. However, building cable entries and seals that completely eliminate the possibility of leakage into the motor chamber will eliminate this problem before it occurs!
Amarex KRT
Horizontal or vertical single-stage submersible motor pump in close-coupled design, with various next-generation impeller types, for wet or dry installation, stationary or transportable version, with energy-saving motor and models for use in potentially explosive atmospheres.
Sewatec
Volute casing pump for horizontal or vertical installation, with various next-generation impeller types, discharge flange to DIN and ANSI standards. Explosion-proof version available.