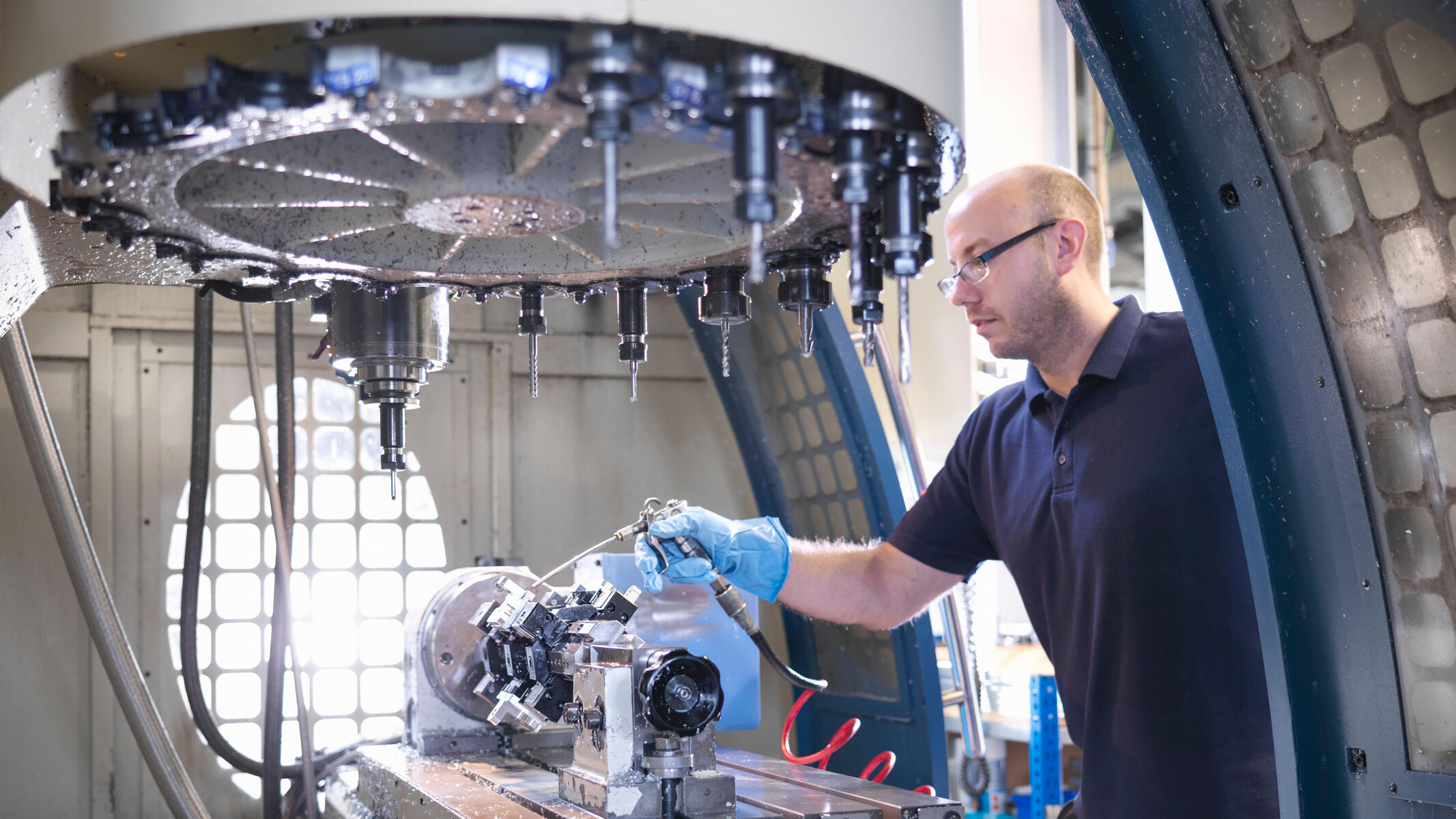 Mechanical Engineering
Tradition meets progress: Well equipped for every challenge – with products from KSB
As well as withstanding the toughest operating conditions, valves and pumps for mechanical engineering also have to offer convincing cost-effectiveness.
Keeping up with the challenges and looking to the future
Mechanical engineering applications place the toughest demands on pumps and valves. Fluids including high-temperature oils, cooling lubricants containing chips, process water with solids content and treated boiler water demand a lot from the materials used for pumps and valves.
Machine tool manufacture, thermal oil systems and steam boiler systems all require the highest levels of precision and safety. The construction materials and performance of valves and pumps in mechanical engineering must therefore match the fluid to be handled.
But production requirements are not the only benchmark; market requirements must also be considered. Mechanical engineering has long faced economic and technological challenges: Internationalisation, new markets in emerging economies and competitors joining the market are all contributing to increased competition.
The impact of technological trends such as digitalisation and Industry 4.0 on the sector is also intensifying. Companies looking to gain ground on the competition need to have their operating costs under control and their eyes open to digital change processes.
KSB products for mechanical engineering
are ready to meet every application technology and economic challenge
Having accrued many years of experience on the market, KSB offers products and services that meet the demanding requirements of mechanical engineering – both in terms of technology and cost effectiveness.
KSB pumps and valves are flexible and can be individually adapted to match the application. They enable efficient operation regardless of load conditions. In addition, high product quality guarantees unbeatable process reliability which in turn supports consistent quality in your production. 
Equipped with innovative technology, KSB pumps for mechanical engineering contribute significantly to lowering operating costs and boosting company earnings.
The toughest demands require products of the highest quality 
From close-coupled pumps to standardised pumps, high-pressure pumps, immersion pumps and cooling lubricant pumps: KSB offers a broad product portfolio enabling us to respond flexibly and individually to your needs and requirements.
KSB pumps for mechanical engineering can also be configured on an individual basis to match the fluid handled, for example by incorporating special mechanical seals, casing wear rings and a wide range of material combinations. This ensures smooth pumping and a reliable production process.
In addition, pumps can be equipped with automation and drive solutions such as PumpMeter, KSB Guard or PumpDrive: These smart products monitor the operating status of the pump, ensure energy-efficient operation of your pump system and notify you of necessary service measures in good time. Digital solutions thus create transparency within the process, prevent unplanned downtimes and reduce operating costs.
KSB offers both specialised niche solutions and integrated system solutions. High-quality products for mechanical engineering are complemented by an excellent range of services from KSB SupremeServ.
ISORIA 10/16
Centred-disc butterfly valve with ISO 5211 compliant square shaft end, sealed by elastomer liner, with lever or manual gearbox, pneumatic, electric or hydraulic actuator. Wafer-type body (T1), semi-lug body (T2), full-lug body (T4) or U-section body with flat faces (T5). Body types T2 and T4 are suitable for downstream dismantling and dead-end service with counterflange. Connections to EN, ASME, JIS.
BOAX-B
Centred-disc butterfly valve with ISO 5211 compliant square shaft end, sealed by elastomer liner (EPDM XC / XU or nitrile K), with lever, manual gearbox, pneumatic or electric actuator; semi-lug body (T2), full-lug body (T4). Body types T2 and T4 are suitable for downstream dismantling and dead-end service. Valve disc made of nodular cast iron or stainless steel. Connections to EN.
ECOLINE GTC 150-600
Gate valve to ANSI/ASME with flanged ends, cast steel A216 WCB, Trim 8 (Stellite/13 % chrome steel) for Class 150/300/600, Trim 5 (Stellite/Stellite) for Class 600, with bolted bonnet, outside screw and yoke, non-rotating stem, flexible wedge, graphite gland packing, stainless steel/graphite gaskets.