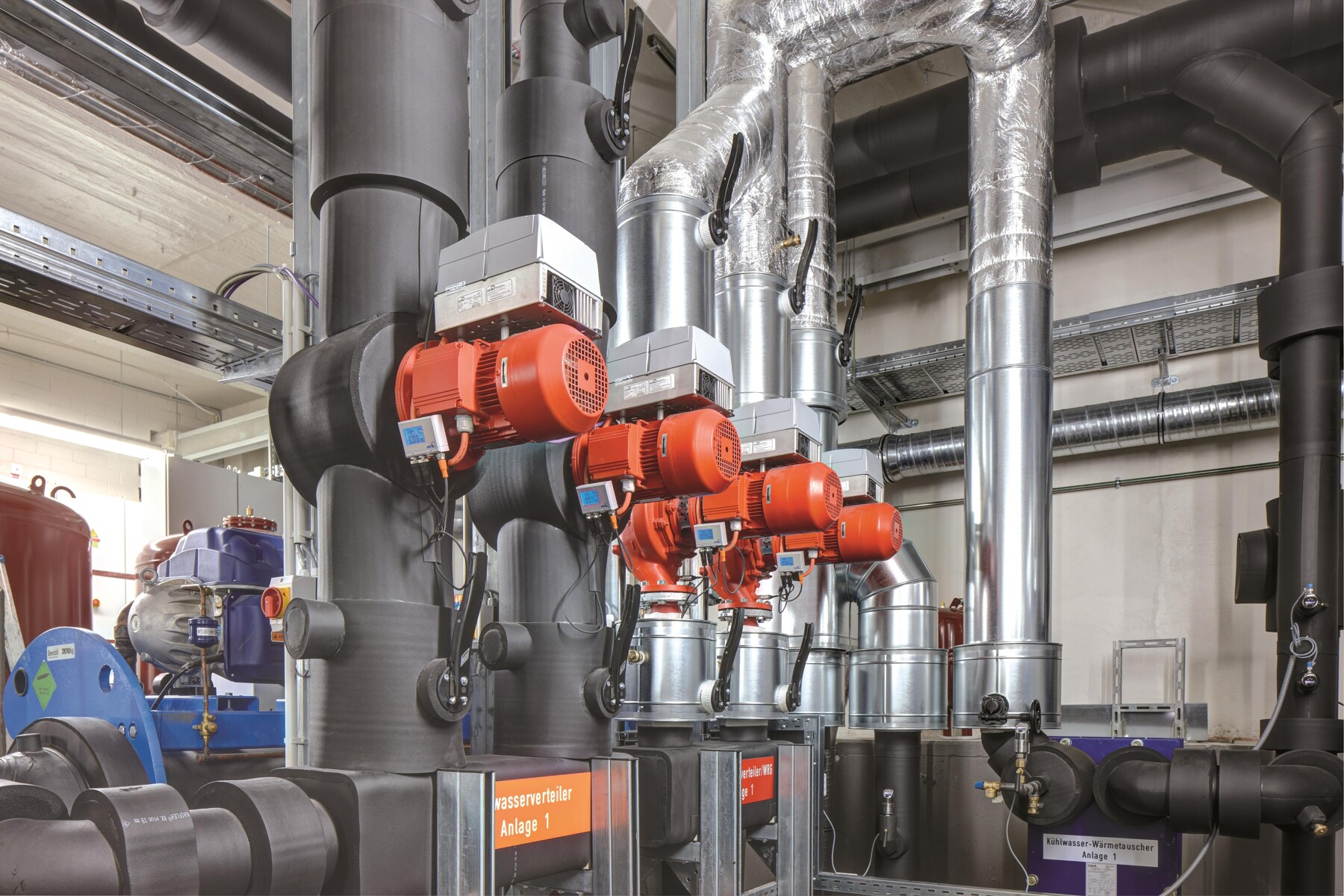 KSB supports efficient refrigeration at Miele
In 2011, Miele installed a new refrigeration system at its production facility. To ensure the required level of energy-efficient operation, KSB supplied high-efficiency Etanorm and Etaline pumps with KSB SuPremE® motors.
The project: A refrigeration system for providing air-conditioning in the buildings
In 2011, the Miele production facility in Gütersloh switched to district heating – and the old boiler house was replaced with a new distributor station. Today, the distributor station supplies heat and cold for almost one third of the approximately 280,000 m² facility. The system distributes heat energy to a total of eight heating groups. The cooling energy that is required in the adjoining workshops is also generated in the distributor station by two high-efficiency refrigeration units with an output of 600 kW and 900 kW. This cooling energy is used for air-conditioning in the buildings during the summer months and is also needed to supply chilled water to the computer centres, machinery rooms and test facilities for continuous material testing.
The customer: Miele
The company Miele is a leading global provider of premium household appliances for the product areas of cooking, baking, steam cooking, refrigeration and freezing, coffee making, dishwashing, laundry and floor care. It also produces dishwashers, washing machines and tumble dryers for industrial use as well as cleaning, disinfection and sterilisation units for medical facilities and laboratories. Miele is committed to ensuring the highest standards of quality and offers its customers appliances that are proven to have a significantly longer service life than many competitor products. Not only do these high-quality appliances help to protect investments, they also make a major contribution towards saving energy and resources.
Miele operates numerous production facilities and sales companies worldwide, employing around 16,000 staff. The company's headquarters in Gütersloh has almost 5000 employees. In addition to the main administration department and goods distribution centre, it houses the central spare parts warehouse and sales company for Germany. It is also where washing machines and tumble dryers are developed and produced as well as the electronic control units for all other appliances from the Miele product range.
The challenge: Economic refrigeration process and air-conditioning technology
It is not only with regard to the operation of the equipment that the economic use of resources is a key concern. It also applies for the production process itself, as Miele's fundamental philosophy has always been to be economical with all types of resources. Through a variety of such measures, the company has succeeded in cutting its energy requirement by a full 50 % over the last 15 years. This enabled the production facility in Gütersloh to completely eliminate the need to produce its own heat. Today, it covers its heat requirement via a district heating system run by a large company in the direct vicinity. When planning and selecting the refrigeration system, maximum energy efficiency was therefore one of the customer's top priorities.
The solution: Efficient refrigeration process using pump systems from KSB
Fitted with PumpDrive variable speed systems, the pumps' output can be continuously matched to the refrigeration system's demand. Two of the pumps operate continuously and are equipped with KSB SuPremE® motors which already meet upcoming IE4 efficiency requirements from the EU. In addition, they are extremely well-suited to continuous operation. High-efficiency drives and demand-driven operation are important aspects of FluidFuture®, KSB's comprehensive energy efficiency concept.
The KSB pumps from the Etanorm or Etaline range are employed as dual-pump sets. They are operated in parallel under part-load conditions, with each individual pump being capable of producing around 80 % of the required maximum output. This is cheaper in terms of energy than using a single larger pump. Although a single pump could produce the total output required, it would only use a fraction of its capacity under real operating conditions. All pumps are fitted with PumpMeter units designed to measure the data required for flow rate control and to identify potential energy savings.
The combination of high-efficiency refrigeration units and KSB's pump technology has helped Miele to cut energy consumption in the refrigeration process by about 40 % compared with the old system. At the same time, the system's improved efficiency reduces CO2 emissions by around 400 tonnes per year.
Data I Facts I Figures
1x ETALINE GN 080-160/114 G11
Flow rate Q = 40 m3/h
Head H = 6.50 m
2x ETALINE GN 080-210/404 G11 PDA
Flow rate Q=100 m3/h
Head H = 9 m
3x ETALINE GN 100-200/404 G11 PDA
Flow rate Q = 92 m3/h
Head H = 10.5 m
3x ETALINE GN 080-210/224 G11 PDA
Flow rate Q = 70 m3/h
Head H = 8 m
2x ETALINE GN 080-210/304 G11 PDA
Flow rate Q = 85 m3/h
Head H = 8 m
1x ETANORM G 100-315 G11 PD 
Flow rate Q = 195 m3/h
Head H = 30 m
2x ETANORM G 125-250 G11 PD equipped with KSB SuPremE®motor
Flow rate Q = 200 m3/h
Head H = 18 m
2x ETANORM G 032-200 G11 PD
Flow rate Q = 20 m3/h
Head H = 40 m