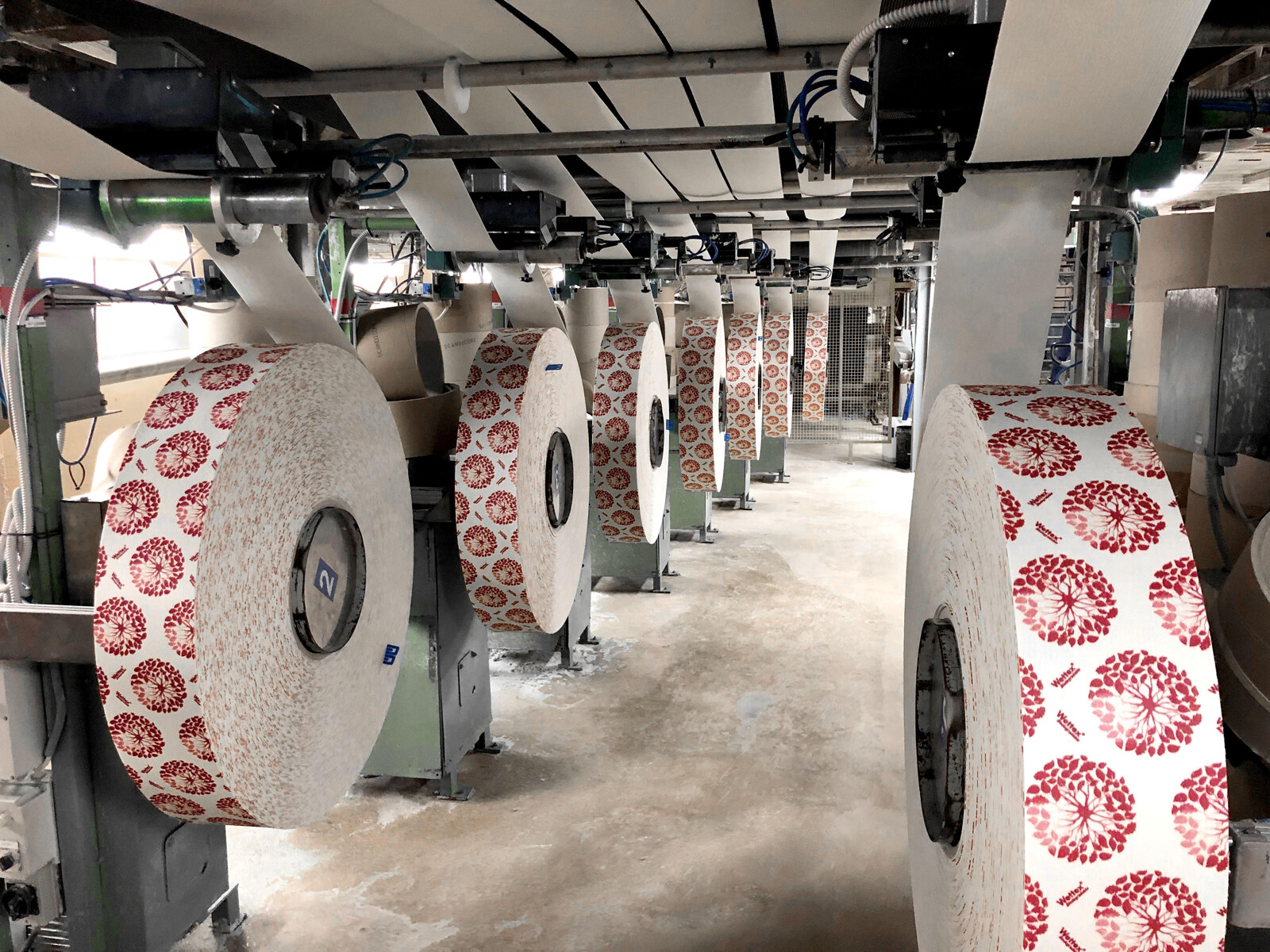 KSB Magnochem pumps reduce the risks in pumping lye
KSB Magnochem magnetic drive pumps have now been introduced by Freudenberg for the manufacture of its Wettex sponge cloths in Norrköping.
The project: Improving lye pumping at Freudenberg
Manufacturing Wettex sponge cloths involves many processes.  In one of these cellulose is dissolved in a tank together with lye (NaOH) to a slurry. The slurry is then pressed away and the cellulose continuous in the process to become viscose. The removed lye is re-used and pumped back into the storage tank. KSB magdrive pumps have now replaced the old pumps used on feeding the mixing tank and recirculating the reclaimed NaOH. By this, a potential leakage has been eliminated.
The client: Freudenberg Home and Cleaning Solutions AB
Vileda Wettex®, is one of the most internationally recognized household brands, alongside others such as Vileda®, O'Cedar®, Gala® and Swash®. The division Freudenberg Home and Cleaning Solutions GmbH (FHCS) are divided into the Consumer Division (approx. 85% of sales) and the Professional Division. FHCS is a subsidiary of the Freudenberg Group, an international family-owned German company with over 170 years of history.
The challenge: Risk-free pumping at Freudenberg Norrköping
To deliver a pumping solution for the safe and risk-free handling of sodium hydroxide and soda lye using sealless pumps. These pumps should be capable of operating efficiently in order to ensure optimum use of the pumped fluid, simple maintenance and optimized running costs.
The criteria was that it shall be a sealless magnetic coupled pump with good quality.
Pump design and operating requirements:
2 x Magnochem MAC050 pumps, one base plate mounted and one close-coupled surface mounted. Product handled: soda lye in concentrations of 20 and 10 percent at flow rates of 8m³/h and 4m³/h.
2 x Magnochem MAC080 pumps, close-coupled and surface mounted. Product handled: sodium hydroxide in 20 per cent concentration at flow rates of 30m³/h.
All pumps with a requested pressure capability of 16bar and supplied with IE3 electric motors.
The solution: Magdrive sealless pumps
KSB Sweden offered the Magnochem pump, its features and benefits being quickly recognized by the customer as being best suited to the application. The pumps have now been running for two years.
Leakage can be avoided by using magdrive sealless pumps because their concept gives the advantage of having only two static seals, which ensures a high degree of security. KSB has paid particular attention to the design of the magnetic coupling and the routing of circulation, cooling and lubricating flows. This allows the operator to choose between four operating modes ranging from a simple internal circulation to a so-called dead-end configuration with an auxiliary hydraulic system. As an option, an external heat exchanger can be installed. This means that the pump set can be optimized for the pumping of polymerizing, coagulating and crystallizing as well as low-boiling fluids.
The cans are available in metals such as Hastelloy or Titanium and can also be made of zirconium oxide depending on customer requirements. The latter is extremely resistant to corrosion and does not produce eddy currents when a magnetic field passes through it. Unnecessary heat losses which would reduce output and compromise pump efficiency are thus eliminated. The engineers have selected samarium-cobalt as a material for the magnets as it is highly temperature-resistant and has excellent magnetic characteristics.
Diamond-coated plain bearings ensure effective anti-seizure properties in the event of insufficient lubrication, a feature which, combined with an optimised arrangement of the radial plain bearings, is particularly beneficial in ensuring the pump's operating reliability. Multiple coupling dimensions are available for each pump size, avoiding the need for oversized magnetic drives. The pumps feature very low vibration levels during operation as each pump rotor is subjected to static and dynamic balancing in the manufacturing process.
At the motor end, optional leakage barriers such as shaft seal rings offer an additional level of reliability and protect the generously dimensioned rolling element bearings as well as the environment from any fluid escaping. The space around the rotor can be monitored using sensors.
As well as the conventional version in back pull-out design, a close-coupled variant is available in 44 sizes for installation in confined spaces. The Magnochem series offers flow rates up to 1,400 m3/h at a maximum head of 233 meters, with operating temperatures ranging from -90°C to +300°C.
Right now just four new pumps are being used on this process. As a bonus, the company is also saving Freudenberg 2000€ a year as a result of changing to the new KSB pumps. Eventually older pumps from other manufacturers will be replaced with KSB pumps on a range of applications as and when required.
Data I Facts I Figures
Location: Norrköping, Sweden
Client:
FHCS Norrköping is a company belonging to the Freudenberg Group – a global technology group with around 50,000 employees in some 60 countries and annual sales of more than 9.4 billion euros in 2018.The figures are taken from the latest Annual Report.
Key Figures 2018
Area of application: Pumping of lye at the production of sponge cloths