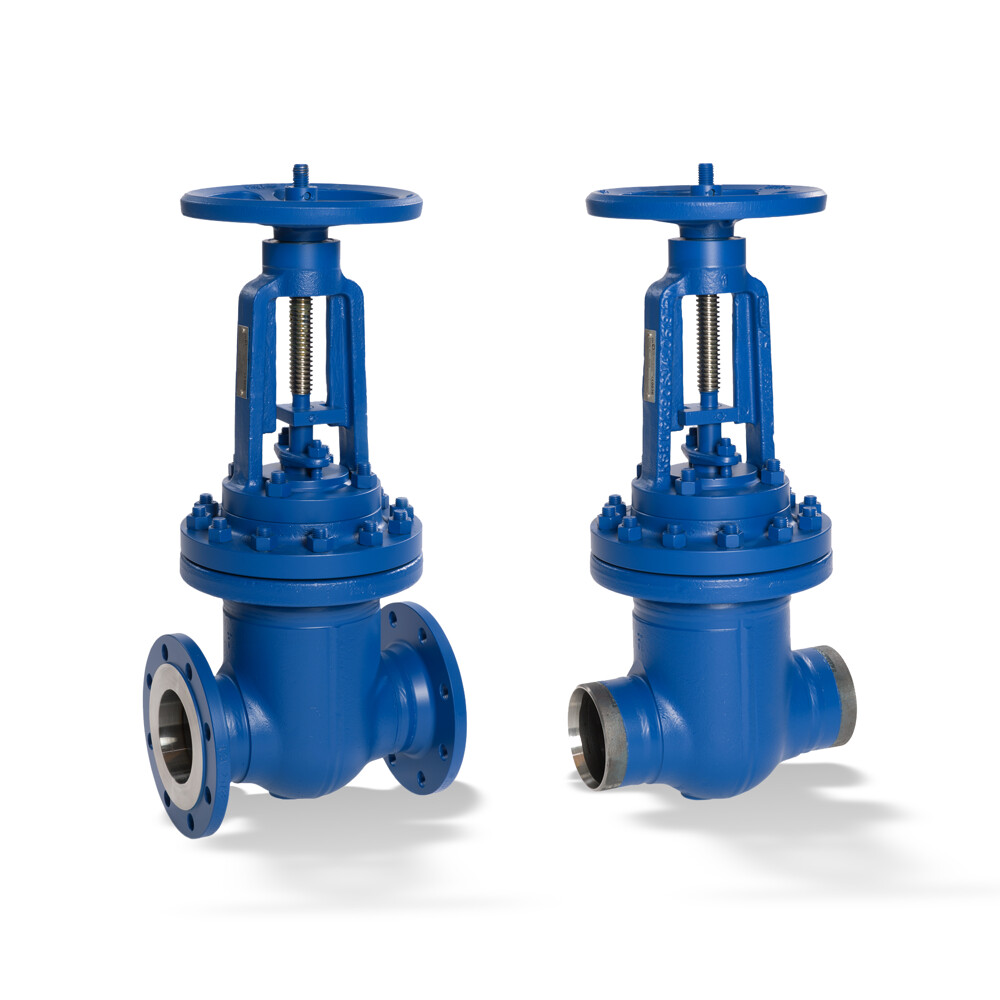 Main Applications
Chemical industry

Boiler feed applications

Boiler recirculation

Cooling circuits
Technical Data
Nominal pressure

PN 10, PN 16, PN 25, PN 40

Max. nominal size

DN 900

Max. allowed fluid temperature

450 °C
Material number list – STAAL 40 AKD/AKDS
87 products
| | | | | | | Material number | Price | |
| --- | --- | --- | --- | --- | --- | --- | --- | --- |
| STAAL40 AKD PN10 DN100 3.1/3.1 | PN 10 | DN 100 | With handwheel | Flange DIN/EN | 66 kg | 48020182 | | |
| STAAL40 AKD PN10 DN125 3.1/3.1 | PN 10 | DN 125 | With handwheel | Flange DIN/EN | 77 kg | 48020183 | | |
| STAAL40 AKD PN10 DN150 3.1/3.1 | PN 10 | DN 150 | With handwheel | Flange DIN/EN | 121 kg | 48020184 | | |
| STAAL40 AKD PN10 DN200 3.1/3.1 | PN 10 | DN 200 | With handwheel | Flange DIN/EN | 182 kg | 48020185 | | |
| STAAL40 AKD PN10 DN50 3.1/3.1 | PN 10 | DN 50 | With handwheel | Flange DIN/EN | 18 kg | 48020179 | | |
Benefits
Reliable, tight shut-off and service-friendly design

Wedge holder with flexibly mounted split wedge. Precise alignment of wedge discs with body seats; wedge discs are easy to replace.

Actuating moments are absorbed by the wedge holder guided in the body. No additional loads on the wedge discs and the seat/disc interface.
Technical Data
Function

Shut off/control flow

Connection type

Flange,
Butt weld ends

Design concept Drive

With electric actuator,
With handwheel

Casing material

P265GH,
P250GH

Nominal pressure

PN 10,
PN 16,
PN 25,
PN 40

Max. nominal size

DN 900

Min. nominal size

DN 50

Max. allowed fluid temperature

450 °C

Min. allowed fluid temperature

-10 °C