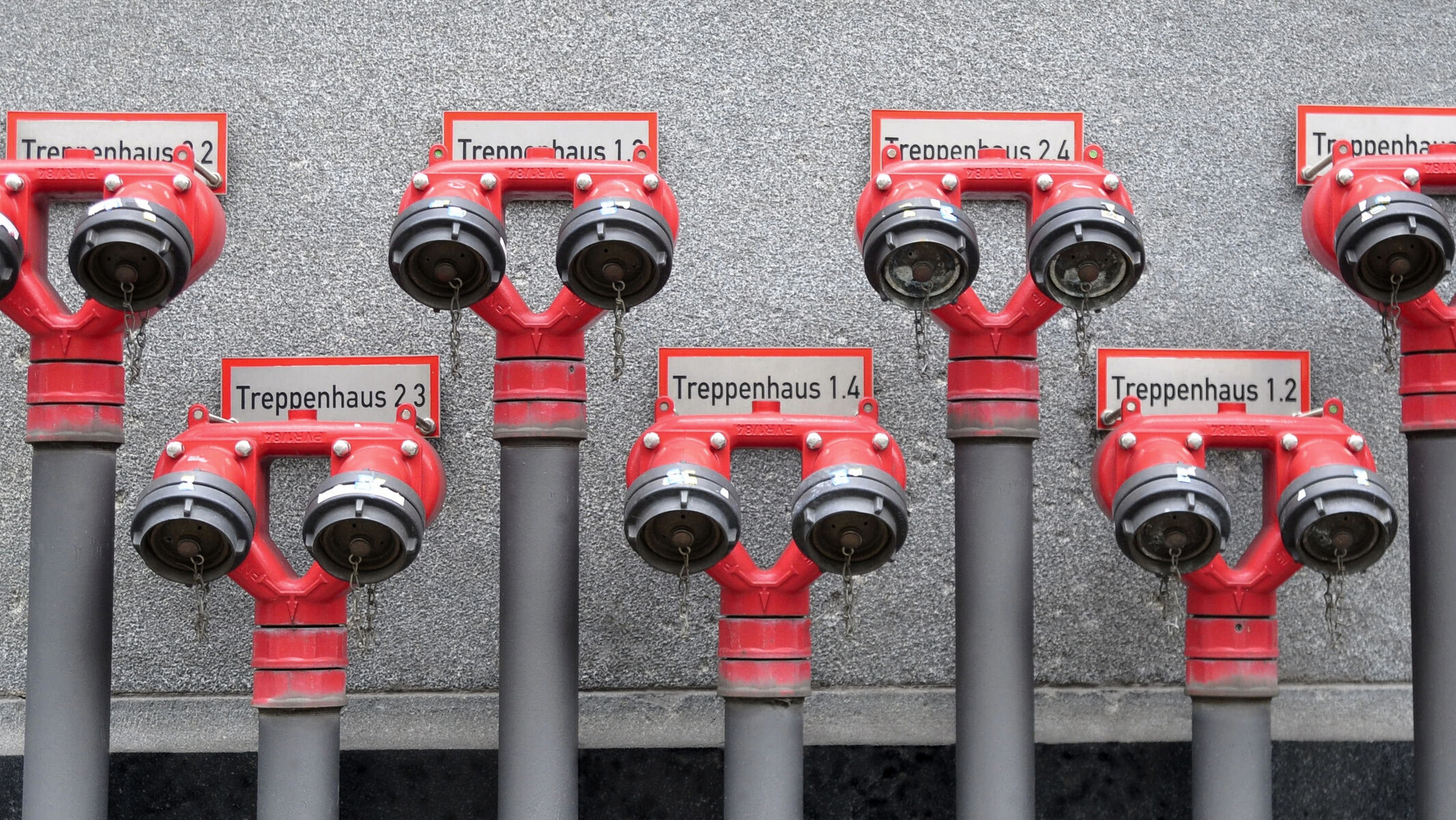 Fire Fighting
Fire-fighting systems and sprinkler pumps from KSB safeguard you in the event of fire
In fire protection systems, operating reliability is crucial. The flawless operation of KSB's products ensures the supply of fire-fighting water in the event of a fire.
Effective fire protection places high demands on fire-fighting systems
In Germany alone, a fire breaks out on average every three minutes. The earlier its spread can be tackled, the lower the damage. This is why engineers often equip modern industrial plants and buildings with automatic fire-fighting systems. But fire-fighting systems have to meet exacting requirements: Despite only operating for short periods, the pumps must quickly deliver their full performance in the event of a fire as well as offering high levels of corrosion resistance in general. Various fire-fighting techniques impose additional demands: Water spray systems operate at particularly high pressures, and foam extinguishing systems require pumps built from materials impervious to the medium.
KSB fire-fighting solutions: safe and reliable through experience
For more than 130 years, KSB has been manufacturing pumps and valves for the most diverse fire-fighting systems destined for applications in industry and building services. From in-house foundries and state-of-the-art research laboratories to seamless quality assurance, KSB offers you a globally unprecedented level of expertise. Together with its wholly-owned subsidiary Kagema, KSB supplies not only pumps, but also all other equipment required for stationary fire-fighting systems.
Tackling fire fighting with KSB means one supplier for all systems and the complete service
KSB offers the right sprinkler pumps, pressure booster systems and all-in solutions from a single source. Whether you require a tailored solution or a standard system: KSB can supply both. With KSB, you benefit from the right products and system solutions for every requirement – from hydrant, sprinkler or foam extinguishing systems to water spray systems and pressure-maintaining systems.
BOAX-S/SF
Centred-disc butterfly valve with ISO 5211 compliant square shaft end for butterfly valves from DN 350, with heat barrier and elastomer liner (EPDM XU or nitrile K), with lever, manual gearbox or electric actuator (BOAXMAT-S and BOAXMAT-SF); semi-lug body (T2) or full-lug body (T4) for downstream dismantling and dead-end service. Valve disc made of stainless steel 1.4308, connections to EN.
ISORIA 20/25
Centred-disc butterfly valve with ISO 5211 compliant square shaft end, sealed by elastomer liner, with lever or manual gearbox, pneumatic, electric or hydraulic actuator. Semi-lug body (T2), full-lug body (T4) or U-section body with flat faces (T5). Body types T2, T4 and T5 are suitable for downstream dismantling and dead-end service with counterflange. Connections to EN, ASME, JIS.
BOA-Compact EKB
Globe valve to DIN/EN with flanged ends, compact face-to-face length for drinking water supply systems, with electrostatic plastic coating inside and outside, slanted seat design with vertical bonnet, EPDM-encapsulated throttling plug, single-piece body, position indicator, locking device, travel stop, soft main and back seat; maintenance-free, (PN 10 DVGW-approved).