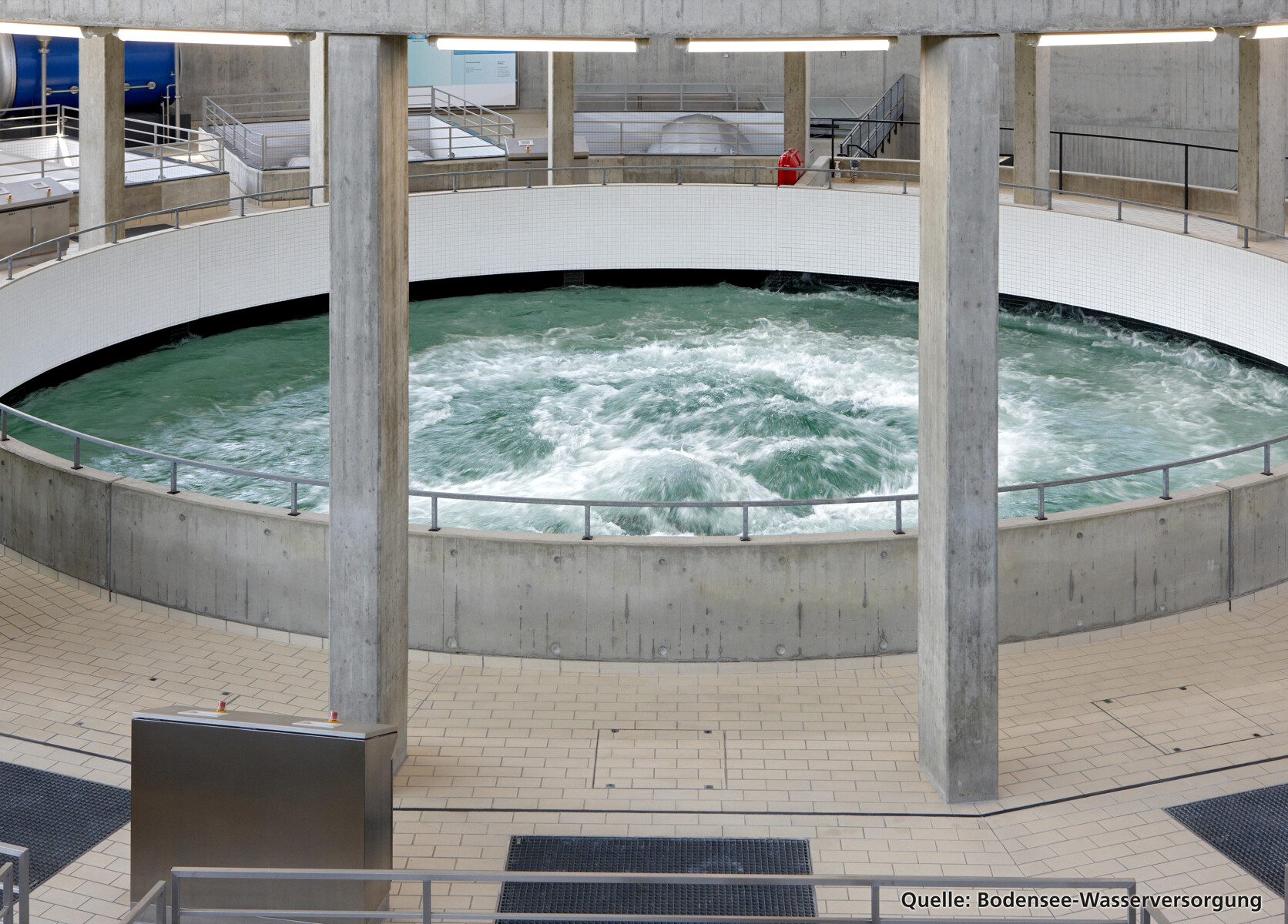 Water Treatment
Supplying fresh, clean water every day: A challenge which KSB handles with competence.
As a globally recognised specialist for water treatment, KSB sets standards in waterworks systems and desalination systems from Paris to New York, Sao Paulo, Sydney and Singapore. 
Water treatment: A complex task bearing great responsibility
Surging global demand for water – especially in industry and households – requires ever more and larger water treatment systems and plants which have to work efficiently. A further challenge is that in future more than 40 % of drinking water will have to be produced via seawater desalination.
Obtaining drinking water or process water often requires mechanical and biological water treatment. In many cases, large masses of water need to be transported as energy-efficiently as possible. Especially in the case of drinking water treatment, all components must also meet stringent hygiene standards as people's health is at stake. 
 
KSB ensures that you are better equipped for any challenge
KSB can help you tackle water treatment processes, whatever the requirements. KSB pumps and valves ensure efficient transport to treatment facilities. In performing this task, they are very reliable and require minimal maintenance.
Thanks to a flexible modular design system, KSB can offer the right pumps regardless of your system requirements. Pumps and valves are also perfectly optimised to work with each other. KSB products thus enable extremely energy-efficient operation and help to reduce the life cycle costs of your system.
KSB solutions for water treatment: flexible, durable, efficient
KSB offers you particularly durable pumps and valves with excellent quality and innovative technology that meet demanding hygiene standards such as the French ACS drinking water regulation. For example: Products from the Etanorm range find use as effective backwash pumps for filter vessels, while Multitec high-pressure pumps ensure optimum supply of treated drinking water.
KSB also benefits from a broad base of application knowledge in the field of water treatment. This know-how is based on experience with numerous successfully implemented projects all over the world. KSB is continuously expanding this knowledge through its own research. 
In addition, KSB offers a comprehensive range of engineering services which see our specialists supporting consultants, engineering contractors and operators – for example with building design or hydraulic calculations for optimum and efficient plants.
 
Etanorm
Horizontal volute casing pump, single-stage, with ratings and main dimensions to EN 733, long-coupled, back pull-out design, with replaceable shaft sleeves / shaft protecting sleeves and casing wear rings, with motor-mounted variable speed system. With KSB SuPremE, a magnetless synchronous reluctance motor (exception: motor sizes 0.55 kW / 0.75 kW with 1500 rpm are designed with permanent magnets) of efficiency class IE4/IE5 to IEC TS 60034-30-2:2016, for operation on a KSB PumpDrive 2 or KSB PumpDrive 2 Eco variable speed system without rotor position sensors. Motor mounting points in accordance with EN 50347, envelope dimensions in accordance with DIN V 42673 (07-2011). ATEX-compliant version available.
MegaCPK
Horizontal radially split volute casing pump in back pull-out design, with radial impeller, single-entry, single-stage, to DIN EN ISO 5199, dimensions to DIN EN ISO 2858, complemented by nominal diameters DN25 and ≥DN200, in large range of material and seal variants; also available as a variant with "wet" shaft and conical seal chamber. ATEX-compliant version available.
Omega
Single-stage axially split volute casing pump for horizontal or vertical installation, with double-entry radial impeller, mating flanges to DIN, EN or ASME.
ISORIA 10/16
Centred-disc butterfly valve with ISO 5211 compliant square shaft end, sealed by elastomer liner, with lever or manual gearbox, pneumatic, electric or hydraulic actuator. Wafer-type body (T1), semi-lug body (T2), full-lug body (T4) or U-section body with flat faces (T5). Body types T2 and T4 are suitable for downstream dismantling and dead-end service with counterflange. Connections to EN, ASME, JIS.
SERIE 2000
Dual-plate check valve with single-piece, wafer-type body made of lamellar graphite cast iron, nodular cast iron, steel or stainless steel; metal/elastomer-seated or metal/metal-seated, maintenance-free, connections to EN, ASME or JIS.
SISTO-16TWA
Weir-type diaphragm valve to DIN/EN with flanged ends, straight-way pattern, for drinking water installations to DIN 1988, DIN-DVGW-approved for water acc. to test W 270, in compliance with the latest elastomers guideline of the German Environment Agency; shut-off and sealing to atmosphere by confined and supported SISTOMaXX diaphragm; position indicator with integrated stem protection. All moving parts are separated from the fluid by the diaphragm. Maintenance-free.