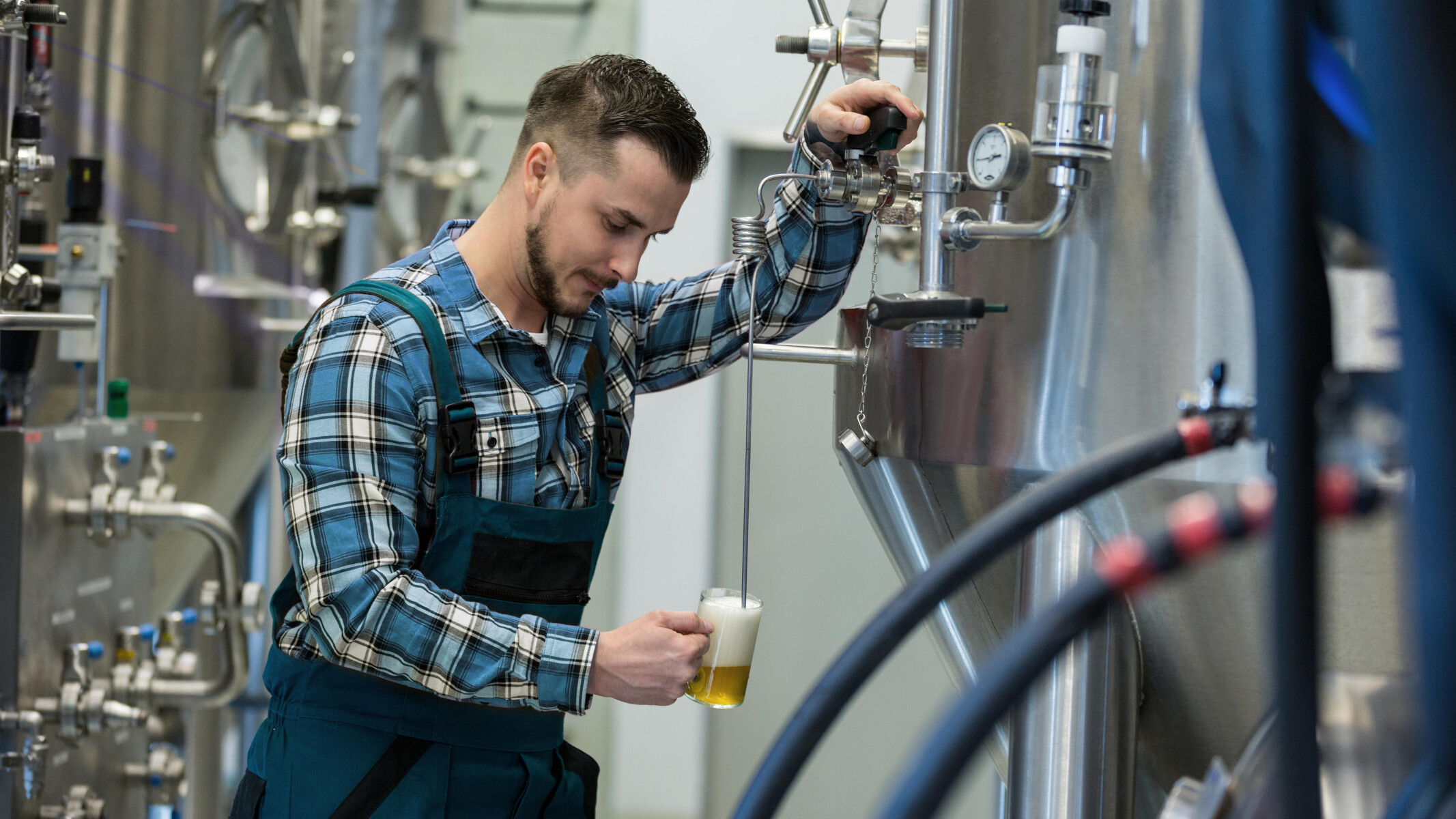 Food and Beverage Production
The perfect recipe for your success:
Hygienic food pumps and valves from KSB
KSB products for food and beverage production always guarantee the highest quality, compliance with hygiene standards and absolute process reliability.
The food and beverage industry: a sector with exacting requirements
Strict hygiene standards apply in the food and beverage industry. Systems and components must guarantee reliable production with consistent quality at all times. That is why the sector demands quality pumps that ensure excellent process reliability without downtimes – and still deliver energy efficiency. Only in this way can beverage and food manufacturers benefit from the added value of economically efficient processes.
Everything from a single source: KSB is your competent full-range supplier
You stand to benefit from KSB's status as a full-range supplier for food and beverage production offering both a specialised hygienic products portfolio and products for secondary processes. In addition to pumps and valves for peripheral equipment, KSB can also offer you a wide range of products for hygienic applications.
Whether in brewing processes, in the production of animal feed, baby food, pasta and other foodstuffs or in complex sugar production processes: KSB's high-performance hygienic food pumps and valves find use in a wide variety of applications. They always guarantee the highest quality and absolute process reliability – while of course meeting necessary hygiene standards. Unplanned downtimes can thus be reduced to a minimum.
In addition, KSB's high-efficiency pumps achieve outstanding levels of energy efficiency regardless of the application.
At KSB, a special LSA team (life sciences applications) is on hand to help. The team has been trained for the requirements of the food and beverage sector and has broad application know-how.
Gentle handling with no rough edges: KSB products prove convincing with top quality hygienic design
As a full-range supplier, KSB offers pumps and valves for food and beverage production that are optimally matched to the requirements of hygienic process engineering. These products are ideally suited to a wide variety of processes – both in food production and in beverage production.
Beer production is a good example. Here KSB offers the optimum pump for every transport task – in the brewing process itself and in various ancillary and cleaning processes. Breweries use KSB products for water treatment, in the brewhouse, in the fermentation or filtration cellar, in the filling plant and for CIP/SIP routines.
KSB's food pumps are designed in line with the hygienic design stipulations of the EHEDG and EC regulation 1935/2004. No matter whether pumping, dosing or filling: Designs with very little dead volume guarantee a longer shelf life for the end product and optimise the cleaning processes.
KSB food pumps are manufactured from absolutely hygienic CIP/SIP-compatible materials. They are able to process, pump and dose fluids and highly viscous media such as sugar syrup especially gently – and thus fulfil a further quality criterion.
Wherever sugar is produced, there is a good chance that Etanorm will be helping out. This KSB pump is tightly integrated into the production process at one of the world's largest sugar producers. Standardised water pumps from the Eta range and KWP pumps for solids-laden fluids are used both in sugar beet processing and sugar production using sugar cane or starch. Downstream processes then employ hygienic pumps from the Vita family, which also find use in numerous important auxiliary circuits of the various process phases – from juice extraction and purification to thickening and crystallisation.
KSB's expertise is based on 148 years of experience in products for food and beverage production and improvements gained from continuous investment in research and development.
Vitalobe
Sturdy rotary lobe pump in hygienic design, bi-directional operation possible, horizontal or vertical orientation of connections. Hygienic design, excellent CIP/SIP compatibility due to its almost complete lack of dead volume or narrow clearances. All wetted components made of 1.4404/1.4409 (AISI 316L/CF3M) stainless steel; various rotor types, shaft seals and process connections available. Installed as a pump set with gear unit and standardised motor. Vitalobe is EHEDG-certified. The pump elastomers comply with the FDA standards and EN 1935/2004. Accessories include a trolley, a heatable casing or casing cover and a pressure relief arrangement. ATEX-compliant version available.
Vitachrom
Service-friendly non-self-priming single-stage hygienic close-coupled pump in back pull-out design with magnetless KSB SuPremE motor (exception: motor sizes 0.55 kW / 0.75 kW with 1500 rpm are designed with permanent magnets) of efficiency class IE4/IE5 and PumpDrive variable speed system. The pump features a semi-open impeller and electropolished surfaces. It is very easy to clean by CIP/SIP thanks to its almost complete lack of dead volume and narrow clearances. Its wetted components are made of 1.4404/1.4409 (AISI 316L/CF3M) stainless steel. Vitachrom is EHEDG-certified. All materials comply with FDA standards and EN 1935/2004. ATEX-compliant version available.
ISORIA 10/16
Centred-disc butterfly valve with ISO 5211 compliant square shaft end, sealed by elastomer liner, with lever or manual gearbox, pneumatic, electric or hydraulic actuator. Wafer-type body (T1), semi-lug body (T2), full-lug body (T4) or U-section body with flat faces (T5). Body types T2 and T4 are suitable for downstream dismantling and dead-end service with counterflange. Connections to EN, ASME, JIS.
BOA-H
Bellows-type globe valve to DIN/EN with flanged ends, with on/off disc or throttling plug, standard position indicator with colour coding for identification of valve design, replaceable valve disc; bellows protected when valve is in fully open position; seat/disc interface made of wear and corrosion resistant chrome steel or chrome nickel steel.
SISTO-16
Weir-type diaphragm valve to DIN/EN with flanged ends or threaded socket ends, in straight-way pattern; shut-off and sealing to atmosphere by supported and confined diaphragm; body with coating or lining, position indicator with integrated stem protection. All moving parts are separated from the fluid by the diaphragm. Maintenance-free.