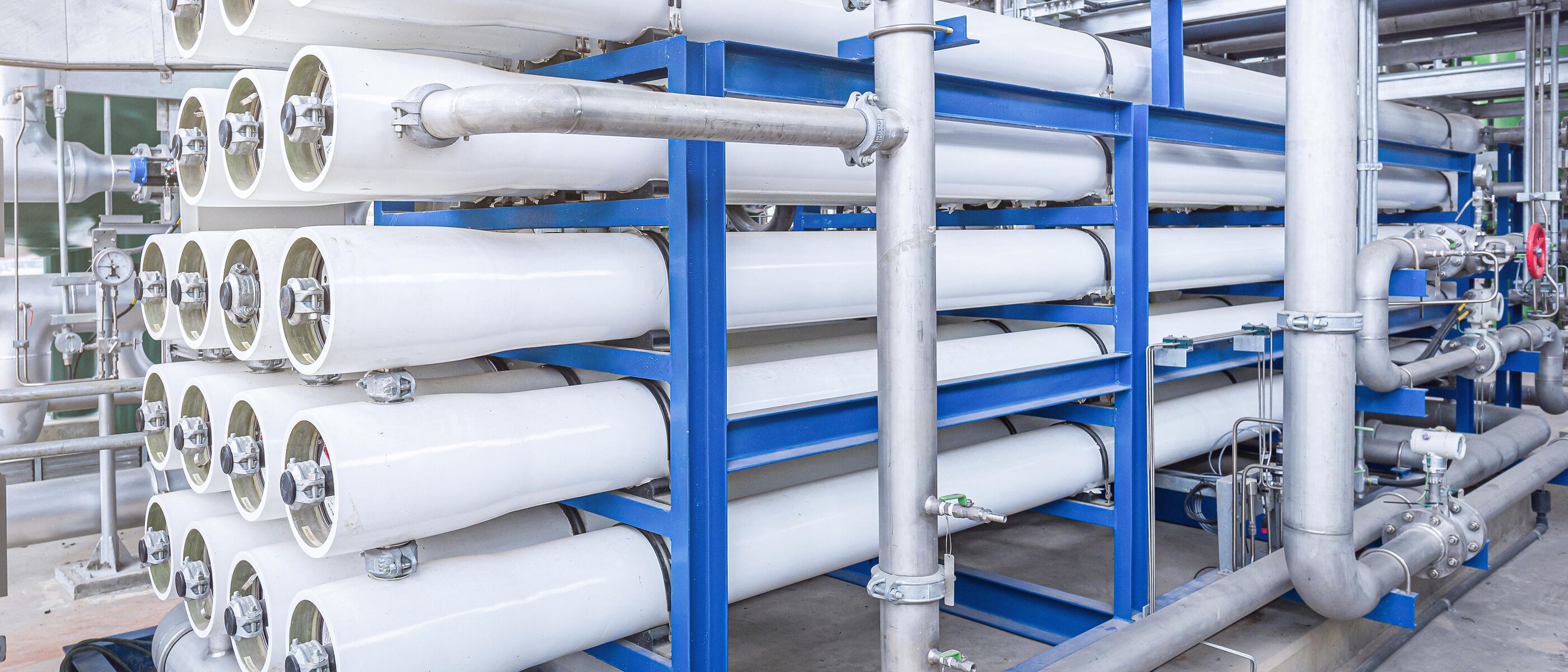 Keeps the economy flowing: Water for industry
From cleaning machines with service water to manufacturing medicines with ultrapure water: There is hardly any industrial manufacturing process out there which can do without treated water. Which types of water are actually required for which applications in industry, however? And what methods are applied to achieve the designated water qualities? Find out more here.
From cleaning machines with service water to manufacturing medicines with ultrapure water: There is hardly any industrial manufacturing process out there which can do without treated water. Which types of water are actually required for which applications in industry, however? And what methods are applied to achieve the designated water qualities? Find out more here.
What does industry need treated water for?
Just as humans need water to survive, industry also requires water for very different processes ─ starting with quite trivial applications such as cleaning as many systems must be routinely cleaned or flushed with water. Water is also frequently used as a coolant to prevent machines from overheating much in the way your car uses coolant in a radiator. Water can likewise be used well as a heat transfer fluid, particularly where processes need to be kept at a certain temperature level. For temperatures between 0 and 100 degrees Celsius, water is essentially the best heat transfer fluid due to its inherent properties and ease of handling. For hotter applications, water can also be used as feed water in boiler systems to generate steam. Processes can then be heated up or energy generated in power plants.
Finally, water is also used directly as process or product water for the industrial manufacture of products, such as in the food and beverage industry. To manufacture one tonne of steel, for example, some 200,000 litres of water are required. And for one tonne of paper, roughly 400,000 litres. According to the German Environment Agency, the chemical industry in Germany alone needed just under 2.6 billion cubic metres of water to manufacture its products in 2016, or around 58 percent of the total water used in the manufacturing sector.
From potable to ultrapure: Water qualities for industry
If you look at the different applications for water, it quickly becomes clear that not all water is the same. To clean a machine, for example, you obviously do not need the same water quality that you would for an infusion solution in a hospital. What water qualities are actually needed, and for what? Also, what parameters are used to measure the quality of water?
Water purity can be determined by employing various different methods, such as determining the weight of the substances dissolved in water or the shift in boiling or freezing points. The refractive index can also be used. The most widespread method, however, is determining purity by way of the electrical conductivity of water. After all, the fewer salts that are dissolved in water (i.e. the chemically purer it is), the less conductive the water in question. This conductivity is measured, or quantified, in siemens per metre. Different degrees of purity can be distinguished here:
Drinking water, for example, is water whose purity is regulated and ensured by the strict German Drinking Water Ordinance. This water is provided by the municipalities directly through the normal drinking water supply lines.
Specific conductivity at 25 °C: 50–5,000 μS/cm
Pure drinking water is frequently used in the food industry e.g. to clean food or manufacture beverages.
Pure water or purified water is treated drinking water. It still contains some residual ions, however. Purified water (or "aqua purificata") produced in accordance with the DAB (Deutsches Arzneibuch, the German Pharmacopoeia) for manufacturing many pharmaceutical products also falls into this category. Specific conductivity at 25 °C: 1–50 μS/cm.
Pure water can be used for many applications ─ including thoroughly cleaning systems and equipment ─ because it leaves zero residue when evaporated.
Fully desalinated water (deionised water) and distilled water have had all ionogenic components (i.e. anions and cations) removed. Distilled and deionised water are not the same, however, as there are differences regarding the requirements and treatment processes. The main difference between distilled and deionised water is the degree of purity. 
Specific conductivity at 25 °C: 0.1–1 μS/cm.
Ultrapure water is the highest water purity level. This water has only minor traces of organic compounds, microorganisms or electrolytes.
Specific conductivity at 25 °C: < 0.1 μS/cm.
Ultrapure water can be used as flushing or process water in medicine, the semiconductor industry and power station technology.
Clean and good: What methods are used to treat water?
Water can essentially be purified in three ways: 
Mechanical treatment, e.g. by grates, screens and filters (including membrane filtration types: micro, ultra and nano filtration)
Physical treatment, e.g. by using aeration, atomisation, sedimentation, flotation, vacuum processes and thermal effects
Chemical treatment, e.g. via oxidation, disinfection, flocculation, ion exchange, activated carbon (adsorption), osmosis and reverse osmosis
These processes are also employed in various different combinations, depending on the nature of the raw water and the subsequent intended use. Now let's take a closer look at the filtration types...
From micro, ultra and nano filtration to reverse osmosis
During microfiltration, water is passed through membranes that have a pore size of between 0.1 and 10 µm. Depending on the application, the filter surface can comprise stainless steel, plastic, ceramic or textile fabric. Microfiltration is preferably used to filter beverages and oil as well as for prefiltration. Typically, a low pressure of between 0.1 bar on the inlet side and 2 bar on the outlet side is used for this purpose. Microfiltration is used to filter comparatively coarse substances out of water ─ for example, organic substances such as plankton, algae or bacteria as well as oil and fat emulsions. Larger colloidal substances such as particles or droplets finely distributed in the water are also removed with microfiltration.
The next stage is known as ultrafiltration ─ here, the size of the pores is between 0.01 and 0.1 µm. This makes it possible to separate out extremely small particles such as viruses, germs, proteins, colloidal metals or macromolecular substances (i.e. multi-chain compounds). The transmembrane pressure required for this lies between 1 and 10 bar.
During nanofiltration, the pore size only ranges between 0.01 and 0.001 µm. This process filters out substances dissolved in water, divalent ions (mostly heavy metals such as zinc, magnesium and calcium), larger monovalent ions (alkali metals such as lithium, sodium, potassium) and halogens (e.g. chlorine). 
Fifty to ninety percent of all chloride and sodium can be removed in this manner. Nanofiltration is therefore an ideal alternative to softening systems. Here, the required pressure lies between 5 and 10 bar.
Finally, reverse osmosis marks the last and highest level of membrane filtration techniques. During reverse osmosis, the natural osmosis principle (equalisation of the concentrations of two fluids through a semi-permeable membrane) is reversed, i.e. the water to be purified with the high ion concentrations is forced through a semi-permeable membrane at high pressure (over 80 bar for landfill water) working against the natural osmotic pressure. The undesired dissolved substances cannot pass through the ultra-fine membrane due to their molecular size. The pore size of the membrane in this application lies between 0.001 and 0.0001 µm. Even monovalent ions are then retained, and what remains is extremely purified water that is free of almost all particulate matter such as mineral and foreign substances, viruses, bacteria, germs and other contamination.
All clear: KSB solutions for industrial water treatment
Whether you are in need of soft and desalinated cooling water, softened, decarbonised and desalinated feed water for water-steam systems, specially treated process water or 100% clean product water: KSB offers you the right pumps and valves for every industrial water treatment process. Particularly resistant materials and reliable seals ensure that neither extreme temperatures nor aggressive fluids can harm our products. KSB's extensive product portfolio with its modular structure ensures that you will always find the right solution to meet your specific requirements. The Etanorm, Etabloc and Etachrom series in particular ─ as well as the Movitec and Multitec multistage high-pressure pumps ─ can be individually configured.
KSB has many years of experience and expertise in the field of industrial water treatment and offers comprehensive service solutions and expert advice in addition to its technically advanced products. Do you have any questions? We look forward to you contacting us!