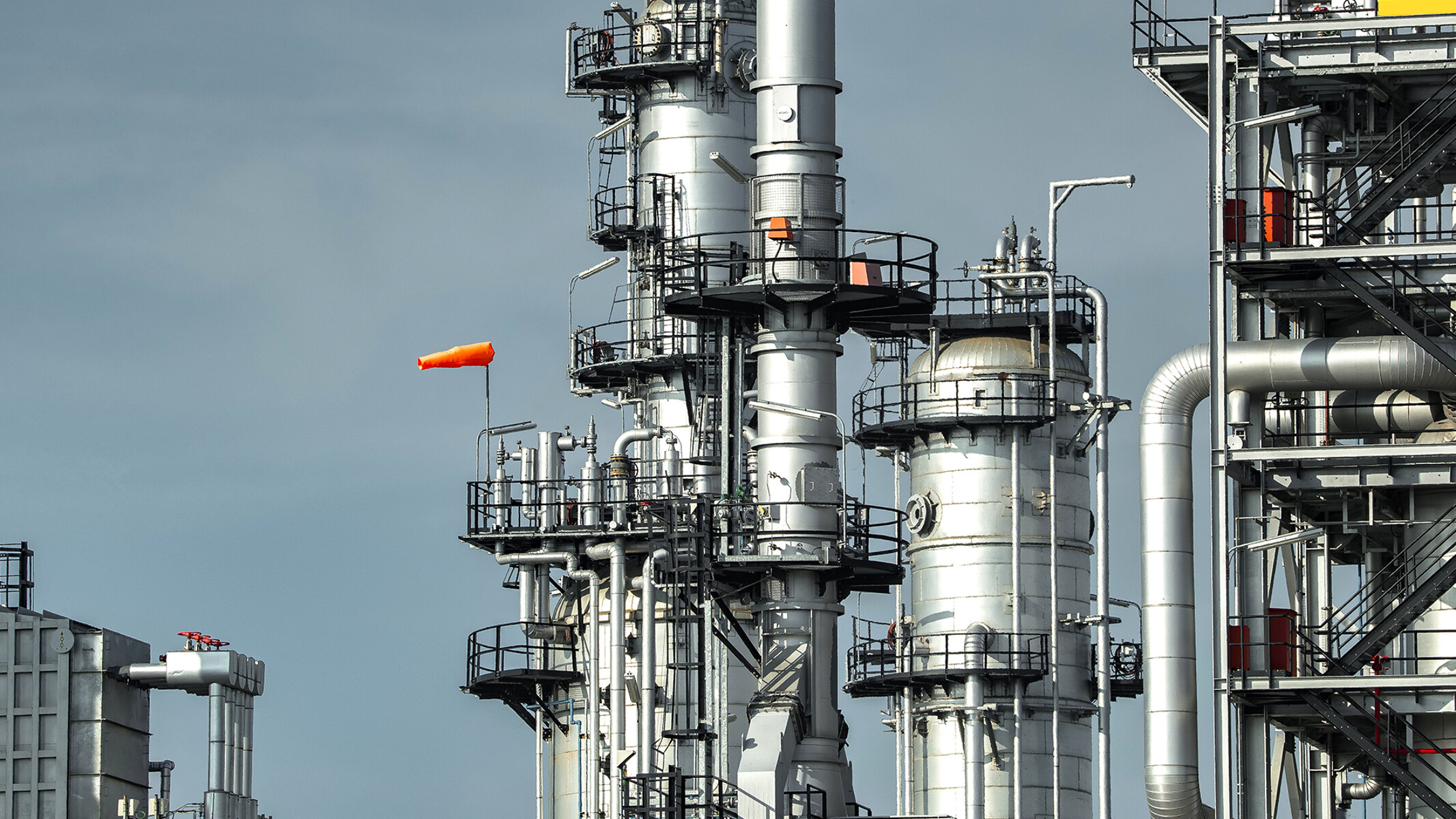 Fluid Catalytic Cracking in Oil Refineries
KSB pumps for catalytic cracking deliver the stability you need to get the most out of your refining operations.
When it comes to catalytic cracking processes, consistency is key. Our pumps for catalytic cracking ensure rock-steady flows and maximum uptime, so you can keep your eye on the bigger picture. 
For high-value hydrocarbon streams that flow like clockwork
Fluid catalytic cracking (FFC) plays a vital role in modern refineries. In a nutshell, FCC units or cat crackers convert complex mixtures of low-value heavy hydrocarbons into high-value light products. Cracking relies on crude oil as a feedstock, which is heated to high temperatures, and combined with a catalyst and steam – elements that break down heavy long-tail hydrocarbons into the short-chain molecules that make up gasoline and olefinic gases. Since FCC units operate in a continuous loop, consistency is key, requiring steady flow rates at every twist and turn. 
High-quality pumps for your FCC units – from the experts at KSB
For FCC operators, it should come as no surprise that high-octane products require high-performance pumps. We know your output depends on several factors, like maintaining a stable flow profile and temperature in the FCC reactor, achieving a consistent steam feed rate, and managing the activation catalyst. 
Building on those needs, our process pumps, chemical pumps and utility pumps are all well-equipped to handle the demands of hydrocarbon cracking. Need a stringent and fail-safe emission control for your processes? We've got solutions to contain byproduct gases, too. 
Check out our heavy-duty centrifugal process pumps from the RPH and RPHb/d series for a long service life with minimal maintenance in your facilities. We also offer CHTR barrel pumps, CHTRa axially split multistage pumps and WKB/WKTR vertical pumps for your refinery applications. Our pumps are well-equipped to handle your FCC process flows and can be operated up to 450°C.
Quality solutions and service for your catalytic cracking requirements
We offer engineered process pumps with broad flow and pressure ranges, so you will always find the right fit for your fluid catalytic cracking systems. Our pumps are designed to withstand highly volatile hydrocarbons and highly viscous fluids at high temperatures – all the basic elements that define your FCC processes.
Depend on KSB pumps for precision and stability – even under extreme cracking conditions, so you can tackle other process improvements in your facility. Thanks to our innovative technology, you'll enjoy optimised hydraulics for energy-efficient operation. Our pumps are also low-maintenance by design, ensuring maximum uptime and a lower total cost of ownership.
Once you've made your selection, that's just the start. We cater to all your service needs, from installation and initial set-up to inspecting and maintaining your systems. If you ever need a repair, we'll be there for you and your equipment.