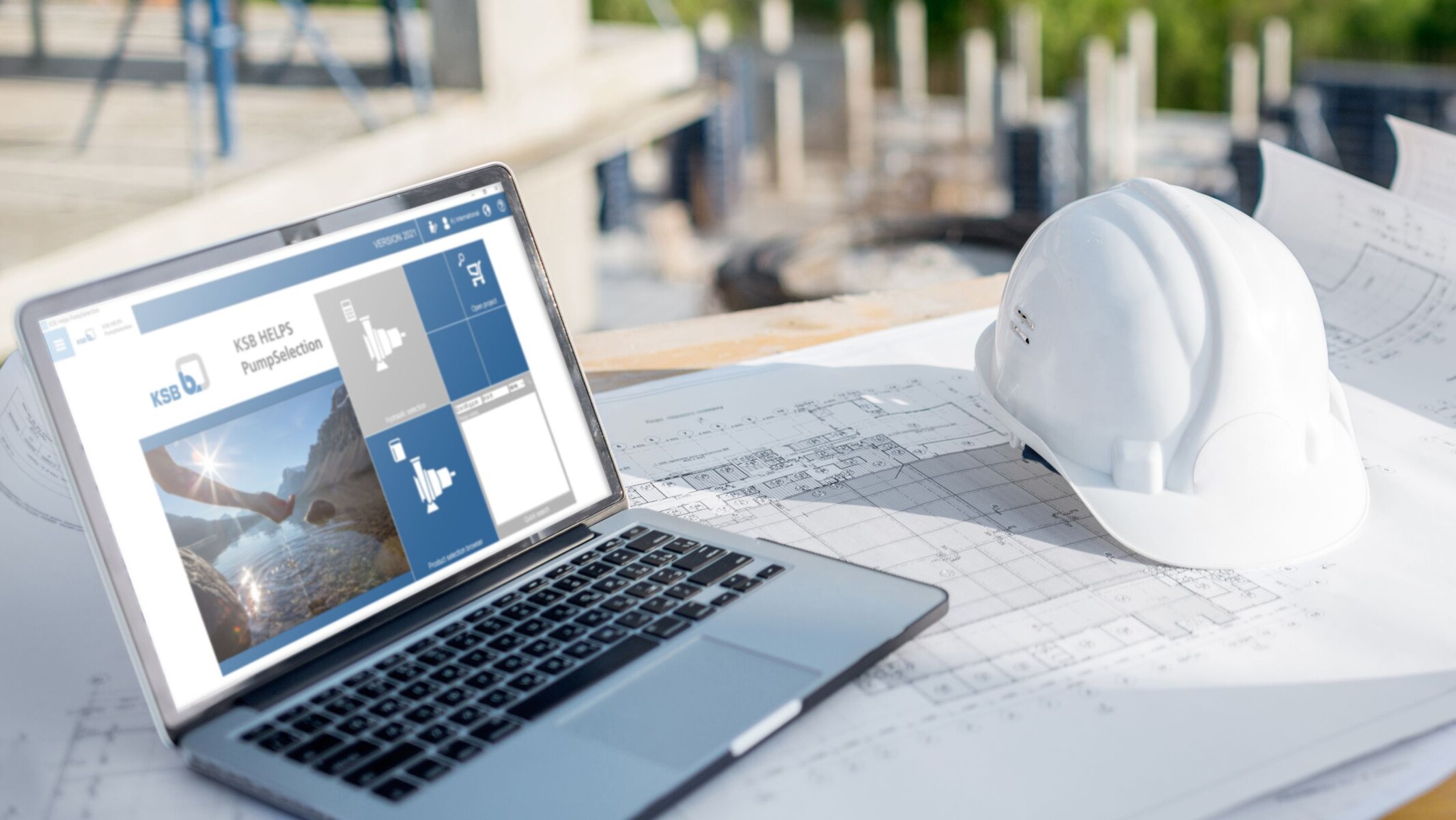 KSB HELPS PumpSelection
The software for selecting water and waste water pumps
The KSB HELPS PumpSelection software assists consultants, engineering contractors and operators in selecting KSB water and waste water pumps. 
New version available
Version: 5-2022.4 – 2023/06/13 (Build 284)
Product data status: R23.08 – REV.00 – 10/08
*as this new release includes several improvements, we recommend to uninstall older versions before installation
The right pump for your project in just a few clicks
KSB HELPS PumpSelection is a tried and tested yet newly redesigned piece of software for highly user-friendly pump selection. The selection tool helps consultants, engineering contractors and operators to reliably select the best dry- and wet-installed water and waste water pumps for their application. KSB HELPS PumpSelection helps the user to quickly find the optimum pump for their system throughout the water cycle, from waste water disposal and waste water treatment through to water treatment and water distribution.
The process of selecting the right pump can be completed in just a few clicks. KSB HELPS PumpSelection finds suitable pumps and appropriate accessories to meet your specifications. Simply enter the duty point with flow rate and head – the software will do the rest.
Plus: matching accessories and associated data sets
Based on this information, the software displays the most suitable pumps so the user can choose the pump that best suits the system and configure it, including appropriate accessories and any available options.
Clearly defined interfaces ensure secure data exchange as well as integration in your own system. KSB HELPS PumpSelection quickly provides you with detailed tender texts that can be easily copied via drag and drop and then pasted. The software has a clear layout, is suitable for international use and saves a considerable amount of time and money.
Benefits
Select and configure the right pump and any installation accessories
Calculate head losses and system characteristic curves
Calculate reduced characteristic curves for pumps and parallel operation
Detailed tender texts that can be easily exported
Precise CAD drawings of pump sets, to be directly incorporated in the project drawings
Compare the energy consumption of different pump selections for life cycle cost calculations
Explained for you, step by step: Selecting with KSB HELPS PumpSelection.
Chapter 1: Overview, selection options and general settings
Chapter 2: Single pump selection – first step – required values
Chapter 3: Single pump selection – step two – performance curves & pump configuration
Chapter 4: Datasheets, drawings and how to create a project
Chapter 5: Selection for identical single pumps in parallel operation
Chapter 6: Selection for different single pumps in parallel operation