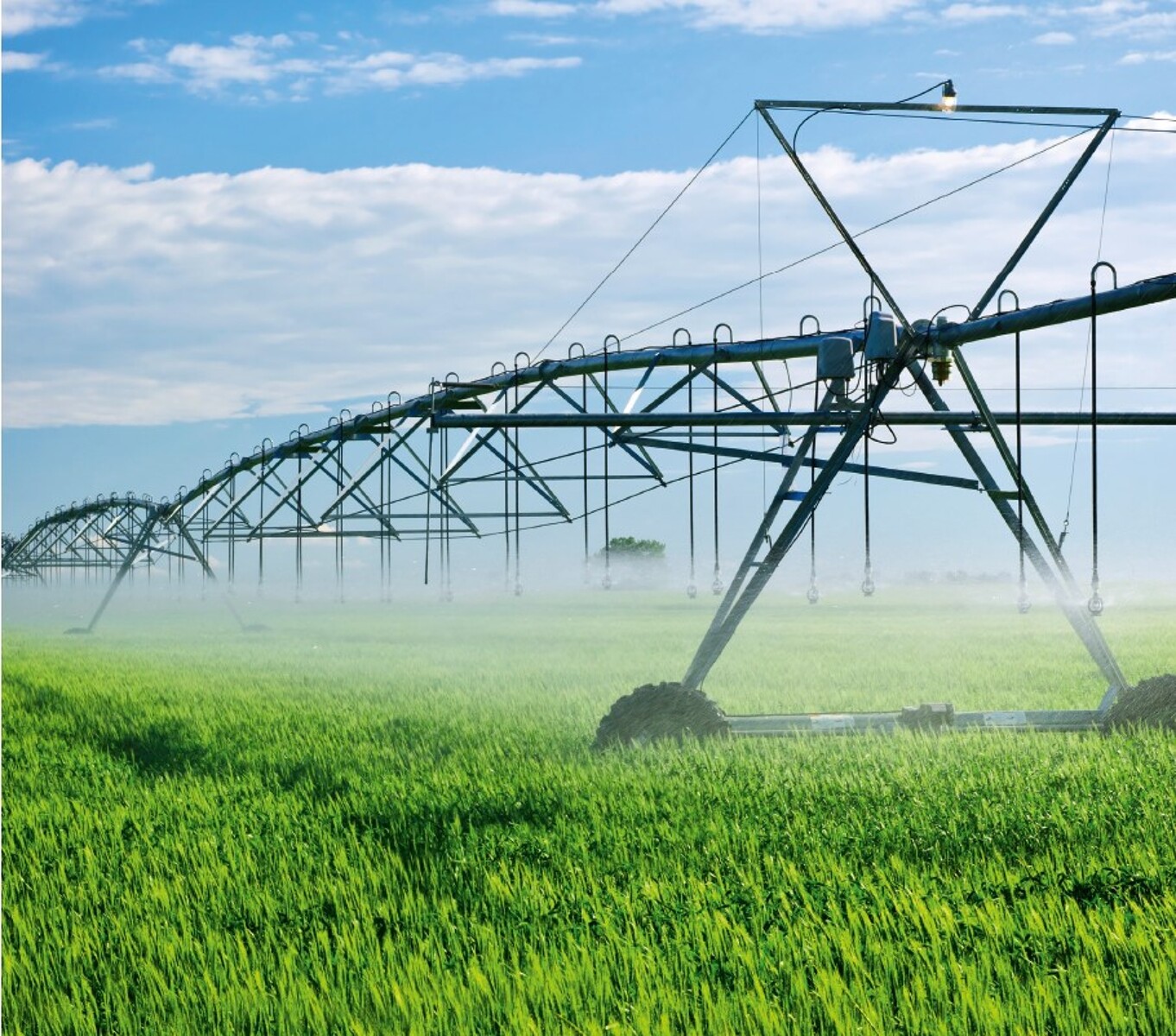 Irrigation
Rich crops – thanks to KSB solutions for irrigation.
All over the world, irrigation assists in growing agricultural crops and pastures, maintenance of landscapes and revegetation of disturbed soils in dry areas during periods of less than average rainfall. A challenge KSB handles with competence.
Responsible use of water resources
Irrigation needs are totally based on efficiency, starting by the extraction of water and pumping it with the correct pressure to the indicated network. The more precise the pumping system is, the more efficient and cost-saving an irrigation system becomes. This is why KSB has developed multiple solutions to help the irrigation sector to optimise the use of resources with energy-efficient products that will help you all along the way: Intake of screened raw water, ultra filtration or pumping water into the supply network. 
KSB ensures that you are better equipped for any challenge in the field of irrigation
Many of the crops grow in areas that do not have enough rainwater, so the water used in irrigation is a scarce, valuable resource. Since water value and costs are being elevated, specialists are always attentive and looking for profitability, focusing on energy optimisation and better use of water resources.
Irrigation systems are permitted to use pure water or water treated with chemicals. The classification of irrigation systems takes into account factors such as the design of the pumping system, the type of drop and the drop size. Another determining factor is the type of crop, which strongly influences the choice of irrigation method.
KSB's expertise and extensive range of pumps and valves help you to meet all these requirements efficiently and affordably by selecting the right product. 
Irrigation pumps are used to pump water from a lower to a higher level, from which it flows through pipes to the fields requiring irrigation (lift operation) or the pumps raise the pressure for spraying the fields (sprinkling). Usually the heads involved range from about 1 m for normal lift operation to 40 m for sprinkling. In special cases, heads exceeding 100 m may be required. The flow rate varies according to the area to be irrigated, the nature of the soil, the type of crop cultivated and the climate. A quantity one to two litres per second and hectare can be assumed as a rough value for orientation.
Etanorm
Horizontal volute casing pump, single-stage, with ratings and main dimensions to EN 733, long-coupled, back pull-out design, with replaceable shaft sleeves / shaft protecting sleeves and casing wear rings, with motor-mounted variable speed system. With KSB SuPremE, a magnetless synchronous reluctance motor (exception: motor sizes 0.55 kW / 0.75 kW with 1500 rpm are designed with permanent magnets) of efficiency class IE4/IE5 to IEC TS 60034-30-2:2016, for operation on a KSB PumpDrive 2 or KSB PumpDrive 2 Eco variable speed system without rotor position sensors. Motor mounting points in accordance with EN 50347, envelope dimensions in accordance with DIN V 42673 (07-2011). ATEX-compliant version available.
Omega
Single-stage axially split volute casing pump for horizontal or vertical installation, with double-entry radial impeller, mating flanges to DIN, EN or ASME.
Multitec
Multistage horizontal or vertical centrifugal pump in ring-section design, long-coupled or close-coupled, with axial or radial suction nozzle, cast radial impellers and motor-mounted variable speed system. ATEX-compliant version available.